Chelsea's first signing after transfer ban: Hakim Ziyech from Ajax
BY APD NEWS
Feb 13,2020 at 22:25
Chelsea from Premier League and AFC Ajax from Eredivisie have reached agreement over the transfer of winger Hakim Ziyech: the 26-year-old Dutch-born Moroccan star will arrive at Stamford Bridge this summer at a price of 40 million euros (about 43.4 million U.S. dollars).
Ziyech will be manager Frank Lampard's first sign following the transfer ban on Chelsea.
"Ajax and Chelsea have reached an agreement for the transfer of Hakim Ziyech. The player will join the Premier League club on July 1, 2020, and will finish the season in Amsterdam. The clubs have agreed a deal of 40 million euros. This sum could potentially increase to a maximum of 4 million euros, with variable factors," said Ajax in an official statement.
"The 26-year-old possesses awareness on the ball, is technically capable of executing very difficult passes to break down compact defenses, and is also a set-piece specialist, particularly with vicious inswingers from the right side. He has been a prolific scorer throughout his career, with over 100 goals for club and country," said Chelsea in a statement.
Having played 160 games for Ajax, Ziyech scored 48 goals and 82 assists for the Dutch heavyweight. However, what's even more heart-shaking for Chelsea was Ziyech's performance in the UEFA Champions League group game against Ajax.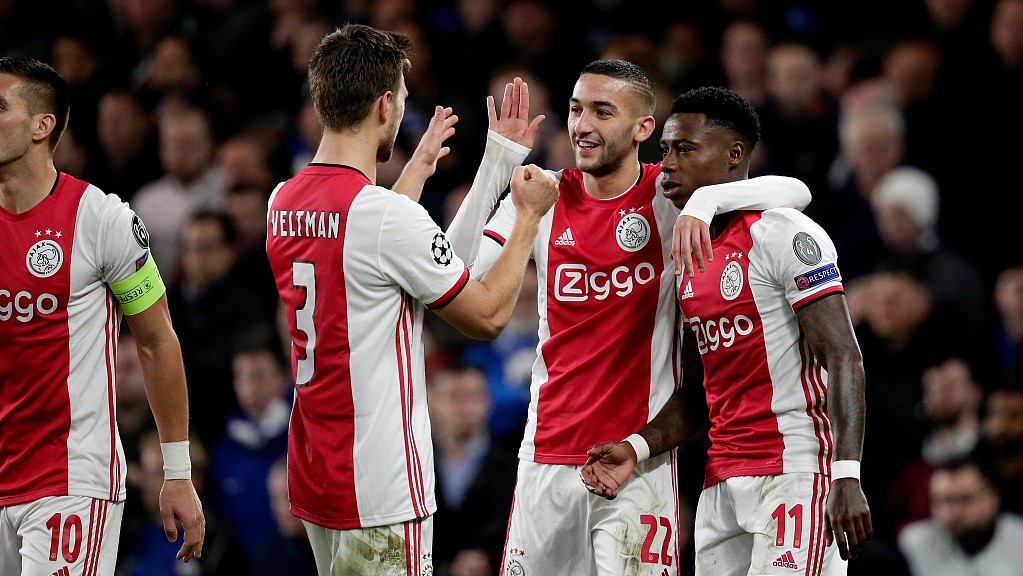 Hakim Ziyech #22 of AFC Ajax celebrates with his teammates after scoring a goal in the UEFA Champions League group game against Chelsea at Stamford Bridge in London, Britain, February 5, 2019. /VCG Photo
No Chelsea fan would ever forget what his team did at the Stamford Bridge on November 5. They trailed 4-1 in the game but scored three straight goals in the last 35 minutes to tie the game. Nonetheless, it was Ziyech who led Ajax to lead 4-1 in the first place.
The 26-year-old's performance began from 19:00. He got the ball in the right wing, took a look at Chelsea's defense and then pierced through their defensive line with one long pass that accurately found Quincy Promes who scored an easy goal. About 16 minutes later, Ziyech made a bizarre free kick from the right corner. The ball hit the right cross bar of Chelsea's goal, bounced back to goalkeeper Kepa Arrizabalaga's face before flying into the net. Then at 55:00, Ziyech again passed the ball to Donny van de Beek in a counter attack, helping his teammate expand the lead to 4-1.
The above was simply part of Ziyech's incredible work in the Champions League. From Real Madrid to Bayern Munich, every heavyweight that played Ajax suffered from his performance. Chelsea managing to introduce him will set a good start for Lampard and his young army next season.
(CGTN)