QB Carson Wentz bids farewell to Eagles after 'amazing journey'
BY APD NEWS
Feb 22,2021 at 13:33
Quarterback Carson Wentz, who was traded to the Indianapolis Colts by the Philadelphia Eagles, posted a farewell to the Eagles on Instagram on Friday, calling his five years with the team "an amazing journey."
"What a journey. More than anything, I will miss my teammates. Thank you. I appreciate every one of you and will never forget the relationships and memories made over the years," Wentz wrote. "So many lifelong relationships have been formed in that locker room. Thank you for the fellowship, the camaraderie in the locker room, and the daily battles out on the practice field!"
Wentz also expressed his gratefulness to the city of Philadelphia, the Eagles franchise and former head coach Doug Pederson, who decided to replace Wentz with Jalen Hurts as starting QB last season. That's also when rumors about Wentz possibly leaving the team began to hit headlines. According to ESPN's Adam Schefter, Wentz and Pederson did not talk to each other for two months, something that should never happen in a professional team's locker room.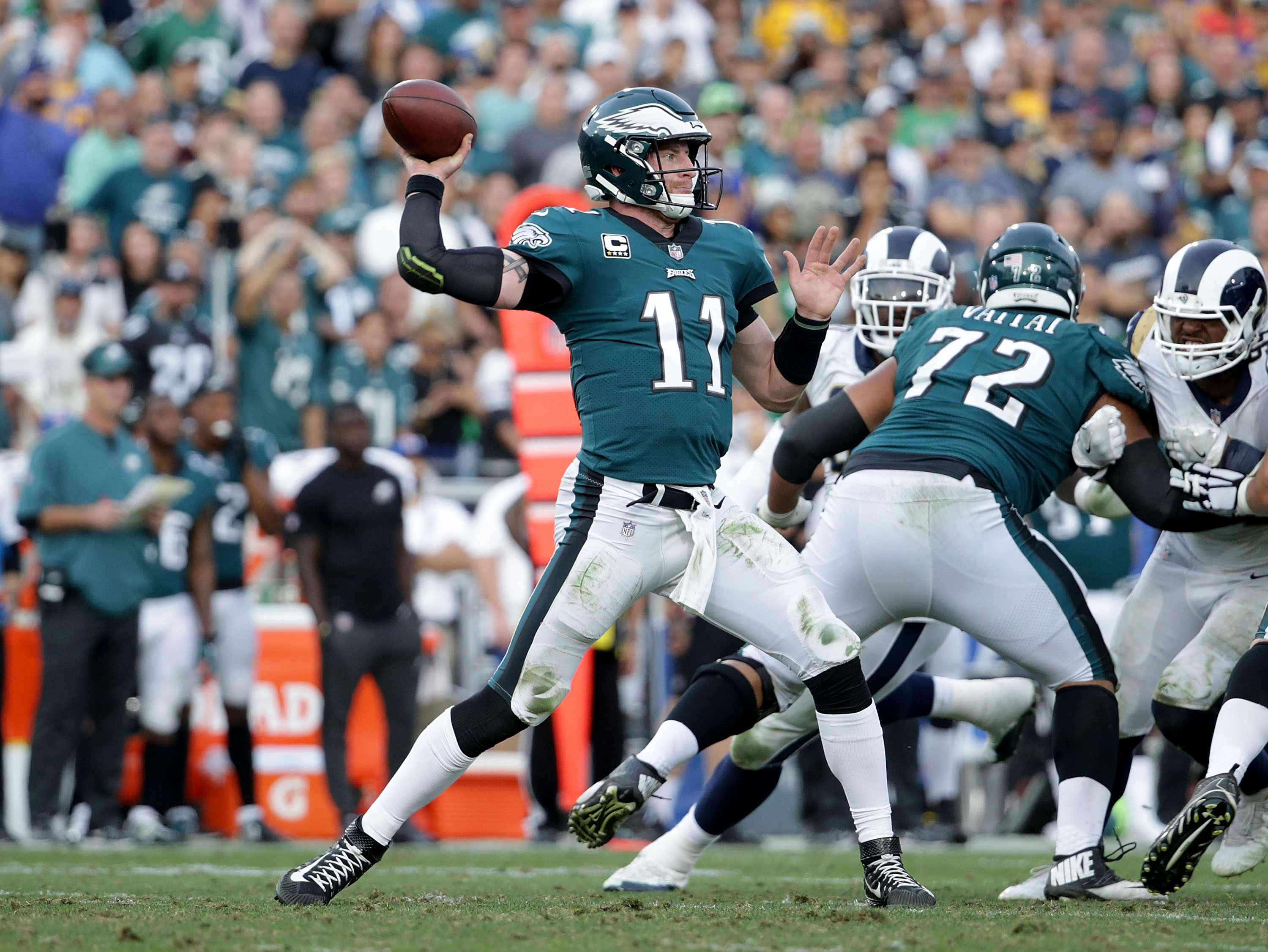 Carson Wentz (#11) of the Philadelphia Eagles passes the ball in the game against the Los Angeles Rams at Los Angeles Memorial Coliseum in Los Angeles, California, U.S., December 10, 2017. /CFP
Back in 2016, the Eagles traded two first-round, one second-round and one third-round draft picks to the Cleveland Browns for the No. 2 overall pick and used it to select Wentz. In the same year, it took the Los Angeles Rams a similar high price to land the No. 1 pick that landed Jared Goff.
Wentz's career with the Eagles gave both fans and himself mixed feelings. In his second season, he had an MVP-level performance and led the team to a National Football Conference championship title. However, after sustaining an injury, he had to watch Nick Foles lead the Eagles to a win in Super Bowl LII against the New England Patriots.
Injuries continued to hold Wentz back in key occasions since then. Though the Eagles gave him a four-year, $128 million contract extension in 2019, the team sent him away after the 2020-21 season.
Injured quarterback Carson Wentz (R) of the Philadelphia Eagles talks with offensive coordinator Frank Reich before the game against the Dallas Cowboys at Lincoln Financial Field in Philadelphia, Pennsylvania, U.S., December 31, 2017. /CFP
Goff was traded to the Detroit Lions by the Rams, who were desperate enough to get rid of his four-year, $134 million contract to put two first-rounders into the package.
The good news for Wentz is that the Colts are one of the best destinations for him. They have a well-designed squad that is only one quality QB away from a playoff run or even a Super Bowl. Furthermore, the team's head coach, Frank Reich, was the Eagles' offensive coordinator when Wentz was playing at his best in 2017. In other words, the Colts have the "user guide" for Wentz.
(CGTN)