Sanctioned Russia to compete under ROC acronym in both Olympics
BY APD NEWS
Feb 20,2021 at 14:35
Russian athletes will compete under the acronym ROC, instead of its full name Russian Olympic Committee, at both the Summer Olympic Games Tokyo 2020 and Winter Olympic Games Beijing 2022, the International Olympic Committee (IOC) said in a statement on Friday.
"Thedecision taken by the Court of Arbitration for Sport (CAS) on 17 December 2020 regarding the case of the Russian Anti-Doping Agency (RUSADA)needs to be strictly and consistently implemented across the Olympic Movement," said the IOC statement.
"Any deviation from the award could lead to new court cases or non-compliance procedures by the World Anti-Doping Agency (WADA)," it added.
On December 9, 2019, the World Anti-Doping Agency (WADA) banned Russia from global sporting events including the Tokyo 2020 and Beijing 2022 Olympic Games after accusing Moscow of falsifying data from an anti-doping laboratory.
As part of sanctions for several doping scandals, the IOC statement reveals the use of acronym ROC, in terms of organizations' participation name, emblem, flags, anthem and uniforms, clothing and equipment.
"All public displays of the organization's participant name should use the acronym 'ROC', not the full name 'Russian Olympic Committee'," IOC said in the statement.
"Flags should include the emblem (with no wording) of the Russian Olympic Committee on a white background," the IOC statement added.
It was a response to the CAS sanction that says "the flag of the Russian Federation (current or historical) may not be flown or displayed in any official venue or area controlled by a Signatory or event organizer."
For the anthem, the IOC urged the Russian Olympic Committee to "submit a proposed musical score to be played for all ceremonies."
In the part of uniforms and clothing, IOC states if removing the words "Russian Olympic Committee" is not possible or if the word "Russia" or "Russian" appears separately, then the words "Neutral Athlete" for example must be included in a position and size that is no less prominent.
IOC also states the sporting equipment should also use the ROC acronym rather than RUS.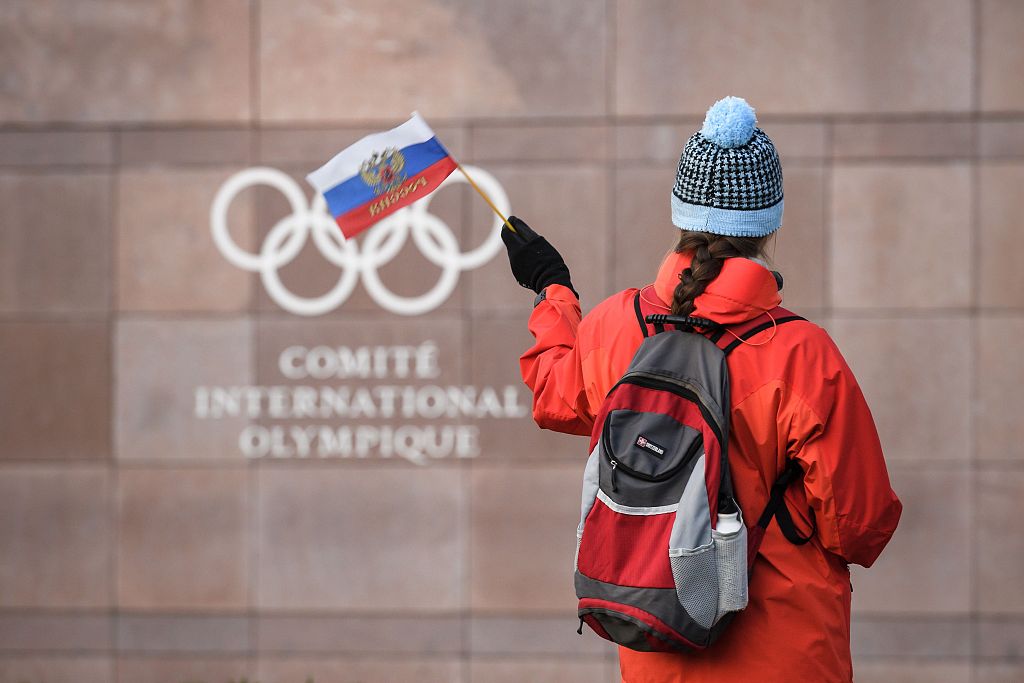 A woman waves a Russian national flag in front of IOC headquarters in Lausanne, Switzerland, December 5, 2017. /CFP
Russian anti-doping agency chief Yuri Ganus dismissed
In August last year, Russia dismissed the chief of the country's anti-doping agency RUSADA, Yuri Ganus, in a move that threatens to further strain the country's relations on the global sporting stage.
Russia has been rocked by doping scandals since a 2015 report commissioned by WADA found evidence of mass doping among Russian track and field athletes.
Suspended in the wake of the report, RUSADA was conditionally reinstated in September 2018. The agency, however, was declared non-compliant late in 2019 after WADA found Moscow had provided it with doctored laboratory data.
RUSADA then appealed against a four-year ban on Russian athletes competing at major international sporting events under their flag as punishment for data alteration.
(CGTN)