China launches national cloud learning platform for online education
BY APD NEWS
Feb 20,2020 at 14:21
China launched a national cloud learning platform on Monday for millions of students who are restricted to their homes over safety concerns arising from the fight against the novel coronavirus outbreak.
As of Wednesday, the novel coronavirus disease (COVID-19) had killed 2,007 people and infected more than 74,000 in the country.
As part of nationwide epidemic control, the authorities postponed the start of the new school semester that was supposed to begin on February 17. A new resumption date has yet to be confirmed.
A project of China's Ministry of Education, the cloud learning platform is open to students in elementary and secondary schools, providing them with free education resources until they can return to their normal classrooms, the ministry said.
Primary and middle schools across the country have to open online curriculum by using official educational websites to ensure that more than 180 million students "are occupied with the guided study at home."
What will the cloud platform offer?
The national platform provides learning resources of six modules: Epidemic prevention education, moral education, special-theme education, curriculum learning, electronic teaching materials and education via film and television.
The curriculum learning module was selected from high-quality learning resources developed nationwide in recent years supplemented by courses newly recorded by teachers in Beijing and other cities.
Based on the nation's curriculum, the platform covers 12 subjects in junior and senior high schools. With 169 lessons released in the first week, more courses will be put online on a weekly basis.
With the support of China's telecom and technology giants, such as China Mobile, China Unicom, and China Telecom, as well as Alibaba, Baidu and Huawei, it ensures that 50 million students can get access to the cloud learning platform simultaneously.
Meanwhile, four channels of China Education Television are broadcasting primary and middle school classes to users across the nation with 75 lessons on air in the first week. The TV network will cover remote areas with weak signals and some places that can't find access to cable TV.
Will online education become a new trend?
Though schools remain closed, universities, schools and educational institutes in different places are offering online services on the basis of their own plans and students' demands.
In Shanghai, all universities, primary and secondary schools will launch e-learning programs from March, according to the Shanghai Municipal Education Commission.
A unified teaching schedule will be adopted on March 2 by all primary and secondary schools in Shanghai, Lu Jing, director of the municipal education commission, told a press conference on virus prevention and control on Tuesday.
Over 1,000 teachers across the city participated in the recording of the online courses, which are being broadcast on 12 TV channels. Students can watch live courses which will be rebroadcast on TV as well as online.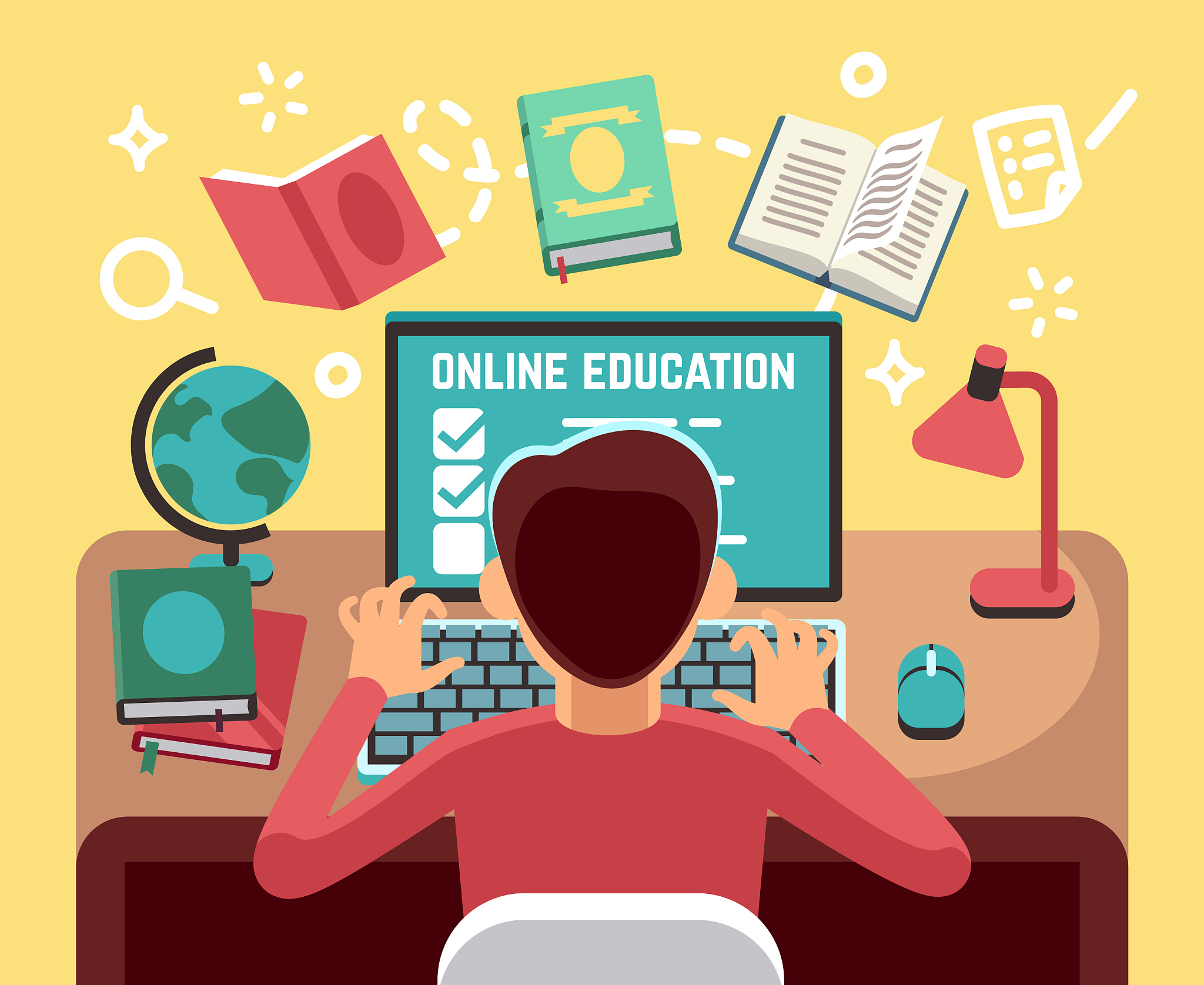 Industry insiders believe that the epidemic has raised public awareness of the importance and urgency of online education. /VCG Photo
Wuhan Municipal Education Commission launched a total of 426 public lectures on Monday with more than one million students and parents watching online.
In Zhengzhou, central China's Henan Province, nearly 200,000 students in the city's Jinshui District entered the online classroom on the original school opening day.
At the same time, online education companies and platforms provide numerous free online courses according to the school plans. Nearly 600,000 teachers have been reportedly using Alibaba-owned DingTalk to conduct their online classes.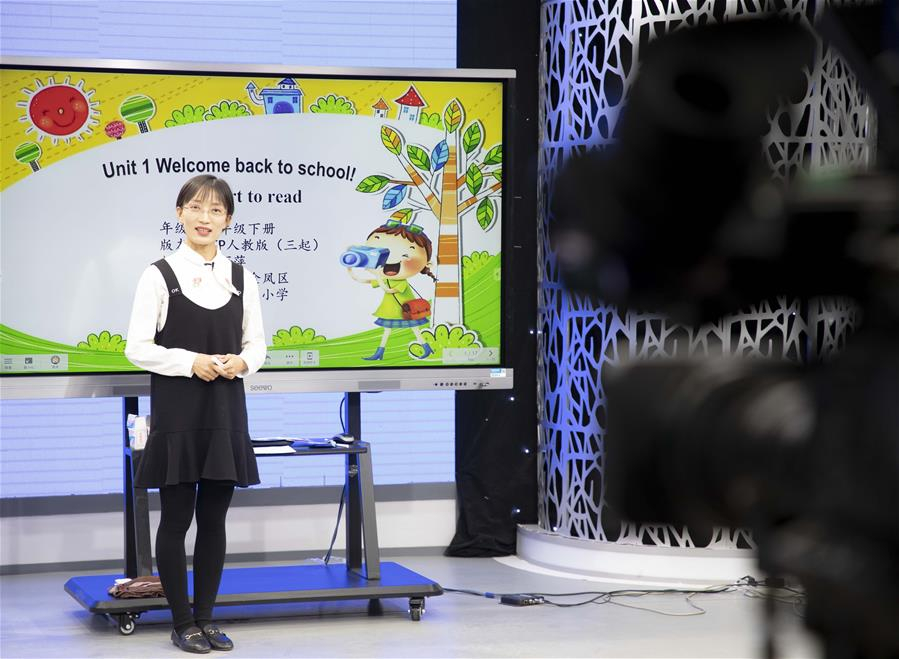 Yang Yuyan, a primary school teacher, records an English lesson for an online class in Yinchuan, northwest China's Ningxia Hui Autonomous Region, February 17, 2020. /Xinhua Photo
In 2018, China's online education industry reached a total market size of 230 billion yuan, with a market penetration rate of less than 10 percent. Industry insiders believe that the epidemic has raised public awareness of the importance and urgency of online education.
Semester postponed, but studying should not suffer
Many practitioners consider the platforms as an effective teaching tool and a supportive learning system that are beneficial, and indeed necessary for both teachers and students.
"The epidemic situation poses a challenge to us, but it is also an opportunity to comprehensively promote the digitalization and informatization of teaching," said Qiu Yong, principal of Tsinghua.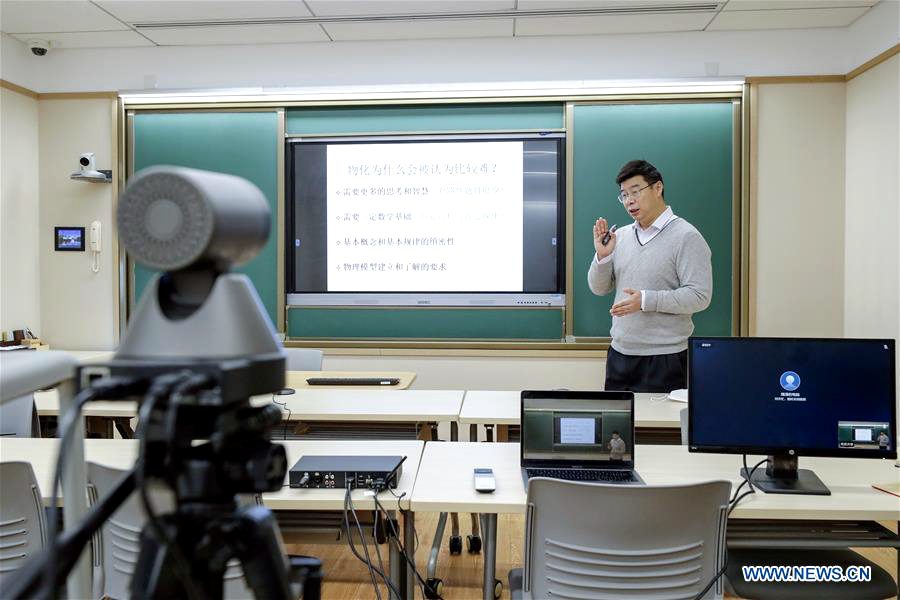 Huang Jianbin, a teacher of Peking University, uses online educational system "Classin" to teach physical chemistry in Beijing, February 17, 2020. /Xinhua Photo
Zhang Bingyin, a teacher of the Water Conservancy Department of Tsinghua, said the app also helped test students' mastery of course content, as it can "randomly call the roll to pick students to speak via Tencent's office meeting software."
"You cannot learn English well without continuous reading and listening practice, even for a day," said Cao Wei, an English teacher in Wuhan – the epicenter of the COVID-19 outbreak.
Through an online learning app, she can set the schedule of reading English picture books and stories for students, interact with them online via listening, speaking, dubbing exercises and other methods, and arrange lessons based on the system's intelligent assessment.
"In this way, I can meet my students every day," she added.
(CGTN)