Medical couple spend New Year's Eve helping the sick in Wuhan
BY APD NEWS
Jan 25,2020 at 10:04
The unexpected outbreak of the new coronavirus has affected everyone in China, especially medical workers, who have to work round the clock to help patients fight the disease.
On Lunar New Year's Eve, there was not much ofafestive atmosphere at the Wuhan Pulmonary Hospital, except when the nurse on duty, Wang Jie, brought dumplings for her patients.
It is part of Wang's job as a professional to give patients hope. But she could not help being concerned about her husband, a doctor who works at the same hospital.
When talking about their child, Wang got emotional.
"I think we have worked so hard. But I owe a lot to my child," Wang said. "My husband is more optimistic. But we seldom meet even though we work at the same hospital."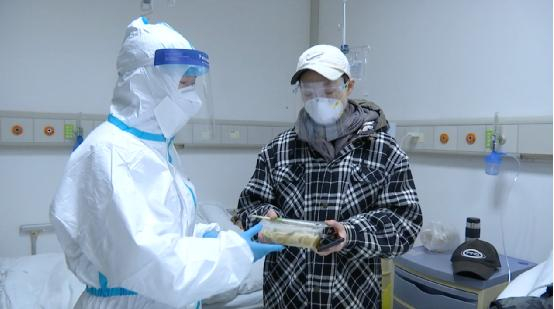 Wang hands dumplings to a patient's daughter. / CGTN Photo
Wang's husband, Hu Ming, is the director of the intensive care unit and has been working nonstop with the pneumonia patients for a month. He only rests for three hours a day.
"We need more experienced doctors," Hu said, explaining his long hours. "Most doctors have come to help from other departments, but they have never worked in the ICU, so it takes time to train them."
Hu and his colleagues work tirelessly in bulky, heavy white suits.
On New Year's Eve, Wang went to Hu's office to call their nine-year-old boy to wish him Happy New Year.
"Your dad and I both have night shifts; we can't come to see you," Wang said.
"Happy New Year, my boy," Hu said.
"Happy New Year," their son replied.
(CGTN)