APD | Afghan-led, Afghan-owned solution needs to be truly respected
BY APD NEWS
Jun 07,2021 at 11:56
Editor's Note:
The writer, Mr. I. Hussain Janjua is a senior media professional and analyst having experience of research & broadcast journalism in different organisations. He is a non-resident fellow of Chengdu Institute of World Affairs (CIWA). (Email: ihussainjanjua@yahoo.com; twitter: @ihussainjanjua)
As the US led NATO forces have started leaving the country, pursuing the September 11 deadline, Afghanistan is about to enter into a new phase of its history after over four decades of turmoil, firstly due to Russian invasion in 1979 and then the US war on terrorism since 2001. However, in the face of NATO forces exit the unresolved intra-Afghan issues may create a difficult preposition in the days ahead if things are not shaped up well in time.
The fears of a security vacuum have been growing because of the stalemate in the peace process and dynamics across South and Central Asia could change, should Afghanistan take a turn for the worst as many fear. Developments are being watched closely in Beijing too, which has increased its presence in the region under the Belt and Road Initiative, and continues to have concerns about the potential for terrorism to spill across international borders.
Amidst various challenges, thus far Sino-Pakistan cooperation on Afghanistan has benefited to their mutual interests and contributed to the peace process and Afghanistan has emerged as a new chapter of their relationship. How Sino-Pakistan cooperation advances in this troubled country in future is yet to be seen.
Having key interests in Afghanistan, the two countries with their mutual cooperation are pursuing security, energy, connectivity and geopolitics areas while Islamabad has also helped establish initial Taliban-China contacts and persuaded Taliban to hold negotiations with the US and Kabul authorities. Beijing has been supportive of Islamabad's Afghan policy and mediated between Islamabad–Kabul and Taliban–Kabul.
It was in this back drop that Foreign Minister of the People's Republic of China Wang Yi, Foreign Minister the Islamic Republic of Afghanistan Mohammad Haneef Atmar, and Foreign Minister of the Islamic Republic of Pakistan Shah Mahmood Qureshi held the Fourth China-Afghanistan-Pakistan Trilateral Foreign Ministers' Dialogue via video link.
They commended the progress in trilateral cooperation since the Third Dialogue held in Islamabad on September 7, 2019, and underscored their readiness to further deepen and expand their cooperation in the peace, political, economic, connectivity, security, counter-terrorism and other areas, and jointly promote peace, stability and development of the three countries and the region.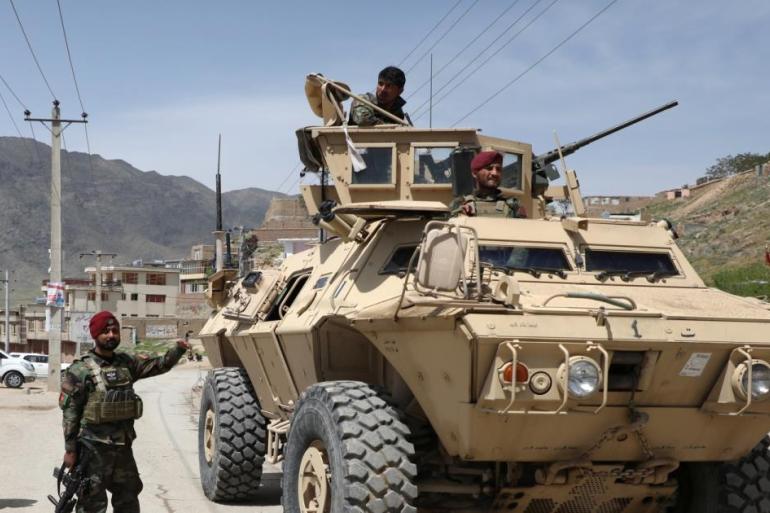 They also reaffirmed deepening cooperation under the Belt and Road Initiative, Regional Economic Cooperation Conference (RECCA), "Heart of Asia" Istanbul Process (HoA/IP), trade through Gwadar Port and other regional economic initiatives besides tackling Covid-19. China emphasized its readiness to continue to play a constructive role in facilitating the improvement of relations between Afghanistan and Pakistan.
Meanwhile, a major challenge has popped up out of almost nowhere as the US troops pulling out from the war-torn country since May 1 -- a deadline set in the US-Taliban agreement signed last year— there have been reports of the withdrawal being completed earlier than the agreed date of September 11, by July 4, which is celebrated as the US Independence Day.
The Prime Minister of Pakistan Imran Khan has also raised concerns about the obtaining situation and said Pakistan is pushing for a political settlement in Afghanistan before foreign troops leave later this year to reduce the risk of civil war in its western neighbor.
"There is a lot of fear right now in Pakistan and I assure you that we are trying our level best that there is some sort of political settlement before the Americans leave," Khan told Reuters lately in Islamabad.
Violence in Afghanistan has risen sharply since the troop withdrawal announcement, with the insurgent Taliban resisting pressure from Washington and its allies to agree to a political understanding leading to a peace deal.
"Since the moment the Americans gave a date, of when they were going to leave Afghanistan ... the Taliban feel they have won the war," Khan said, adding it was not going to be easy to get concessions from the Taliban after the US decision.
Khan said Pakistan would suffer the most, after Afghanistan itself, if there was civil war and a refugee crisis. "And then there would be pressure on us to jump in and become a part of it," Khan said.
He said his government had changed Pakistan's decades-long policy of pushing for "strategic depth" in Afghanistan to ensure that there was a friendly government there. "Any Afghan government chosen by the people is who Pakistan should deal with," Khan said, adding that Pakistan "should not try to do any manipulation in Afghanistan".
Khan said a lot depended on US special envoy Zalmay Khalilzad, with Pakistan's and Afghanistan's help, to carve out a settlement to avoid more bloodshed.
Moreover, in a statement, the Pakistani Foreign Office said Islamabad was worried about a security vacuum in Afghanistan after the US pullout as the already dim prospects of successful reconciliation between warring Afghan groups were growing dimmer with every passing day.
Although another round of intra-Afghan talks is scheduled to begin in the next couple of days, Pakistani officials don't seem very hopeful about a breakthrough. Foreign Minister Shah Mahmood Qureshi, while talking to Speaker of Afghanistan's Wolesi Jirga Mir Rahman Rahmani urged the Afghan groups to "seize this historic opportunity and work out an inclusive, broad-based and comprehensive political settlement for durable peace and stability in Afghanistan and the region.
Pakistan's National Security Adviser Dr Moeed Yusuf in his reaction to the evolving situation said that the sudden withdrawal of the United States from Afghanistan was not ideal, adding that any shifting of blame on Pakistan for "face saving" would be unacceptable.
"The United States has assured us that Pakistan will not be made a scapegoat amidst the withdrawal of US troops from Afghanistan, but only time will tell whether they stay true to their word as history suggests otherwise," he remarked.
While Pakistan has repeatedly advocated peace talks among various factions in Afghanistan, it has also supported the United Nations and the Organization of Islamic Cooperation in promoting the establishment of a multi-ethnic, broad-based coalition government in Afghanistan.
It is worth mentioning that on the issue of Afghanistan, China and Pakistan have maintained long-term communication and coordination, strengthened close cooperation, actively supported the peace process in Afghanistan, and promoted the early realization of peace, stability, and prosperity in Afghanistan.
But for the moment, achieving peace in Afghanistan is a top priority, which is also the basis and prerequisite for its future development. The principle of ", maintained, and guaranteed. At the same time, all parties in Afghanistan should jointly build a political structure in which all ethnic groups and parties in Afghanistan can participate and share power on an equal basis Afghan-led and Afghan-owned" should be truly respected through peaceful negotiations, so that it can be broadly representative and inclusive.
(ASIA PACIFIC DAILY)