Astro Boy exhibited 40 years after introduction to China
BY APD NEWS
Jul 07,2019 at 19:07
A special exhibition on Astro Boy, the world-famous Japanese cartoon character, kicked off in Beijing on Saturday, 40 years after its introduction in China.
Astro Boy was created by late Japanese master cartoonist Osamu Tezuka in 1952 and was the first cartoon that China imported to air on TV in 1979. The futuristic little robot has accompanied many Chinese people since their childhood.
The exhibition highlights 30 valuable original manuscripts and 100 copy manuscripts of Astro Boy drawn by Osamu Tezuka. Last year, an original manuscript of Astro Boy by Tezuka was auctioned for 269,400 euros, or more than 2 million yuan, in Paris.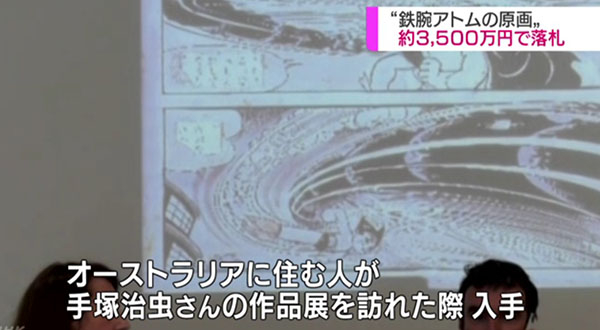 An original manuscript of "Astro Boy" by Osamu Tezuka is auctioned for 269,400 euros, or more than 2 million yuan, in Paris. /Screenshot of Japan's NHK TV program
The manuscripts display how the image of Astro Boy was formed from Tezuka's mind, which became human being's "initial fantasy on artificial intelligence."
The hi-tech show invites visitors to see through black-and-white comics and the 2D world presented by 52 celluloid filmstrips via glasses-free 3D technology, giving them a feeling of passing through time and space.
A giant 3.5-meter-high sculpture of Astro Boy and Tezuka's portrait are also included in the exhibition, which is being held at the Guardian Art Center till August 28.
(CGTN)