Reporter's Diary: Speaking to two families in Hotan, Xinjiang
BY APD NEWS
Jul 21,2021 at 13:38
It's about the simple things in life… the little things.
This is what I have come to find after speaking to locals in Xinjiang. I had the chance to sit down with two families in Hotan, a town in the southwestern part of the Xinjiang Uygur Autonomous Region.
Let's begin with family number one
We were welcomed with a local herbal tea (said to be good for digestion after devouring those meat kebabs), plates and plates of fruits (but of course), walnuts, pistachios, and more flat-baked bread "naan"… A feast not just for one's stomach but also one's eyes.
But what really struck me when stepping foot into Mamattohti Nazar's tastefully done-up home (he's an architect) was how warm, open, and just accepting his family was to a bunch of strangers.
I spent over an hour observing how his family interacts with one another, how they truly enjoy playing with their four dogs (bred for fighting purposes), while in between slotting in some questions for him and his children. They plant their own vegetables and rear chickens, which laid the eggs that were set out in the living room. Self-sufficiency.
"I feel contented and blessed. There is nothing for me to complain about," Mamattohti, 39, earnestly told me, pointing to his wife and kids.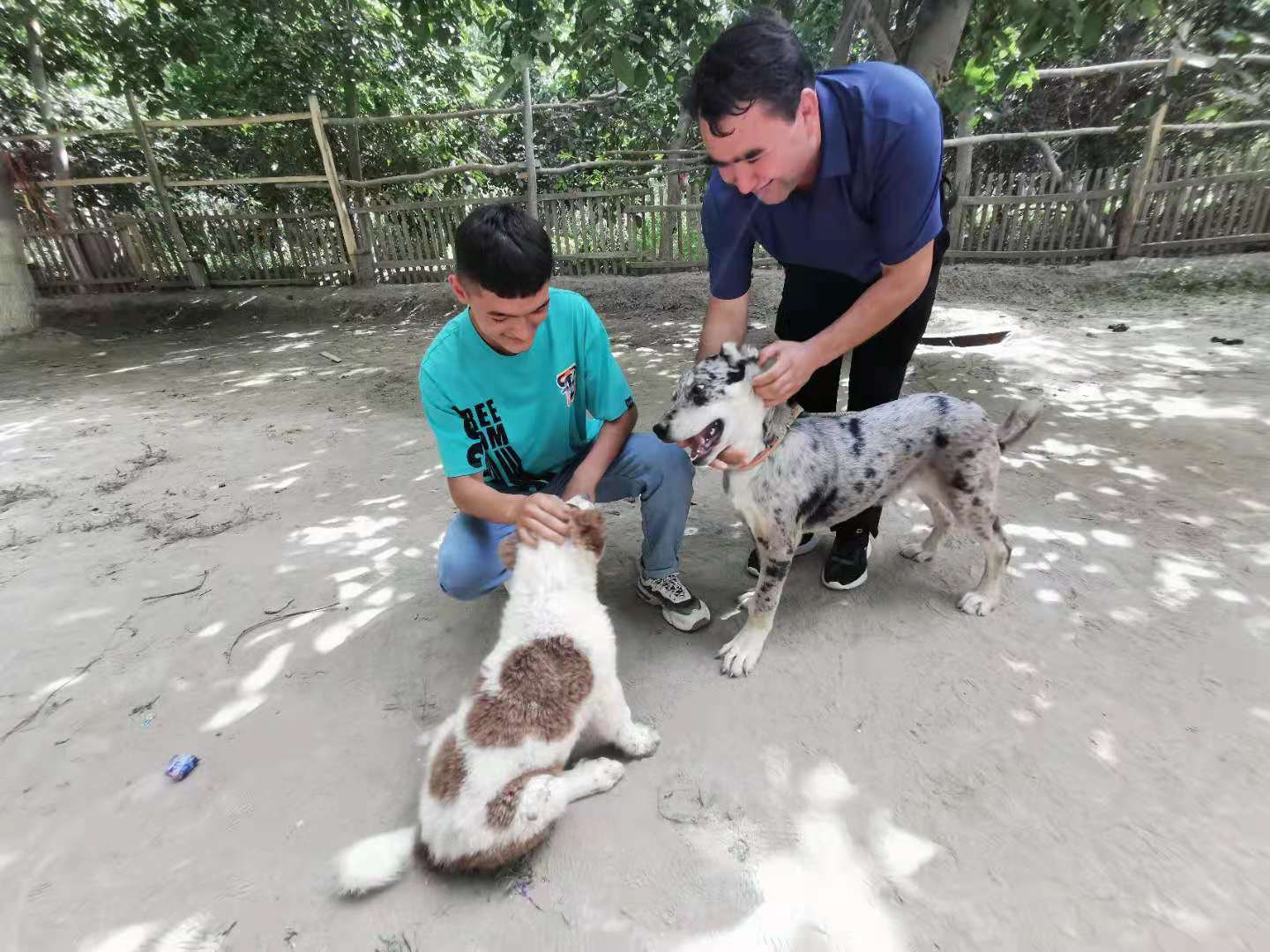 Mamattohti Nazar and his eldest son play with their dogs. Wei Lynn Tang/CGTN
His eldest son, Yakup Mamattohti, turns 16 this year. A very shy chap, as I was told he doesn't very often meet foreigners. But when I started asking him about his hobbies, of which basketball ranks top, his face lights up.
Yakup's idol? Kobe Bryant. "He has Kobe's posters plastered all over his room," his dad teased.
I asked Yakup why he likes Kobe. "His three-pointers," he said, adding that he was very sad when Kobe passed away.
I proceeded to ask Yakup what was his ambition.
"I want to be a policeman," he said, adding, "I want to catch bad people." He was inspired by watching Hong Kong dramas when he was little.
Each of Nazar's children has their own hobbies and talents. His 13-year-old daughter, Nursiman Mamattohti, wants to be a singer when she grows up.
"Is that okay with you?" I asked her father. He said it is, knowing full well that his daughter has the looks to boot with her voice.
On my second request, Nursiman sang me a beautiful Chinese song in full.
A typical Uygur family home. This was tastefully done up by Mamattohti Nazar, who is an architect. Wei Lynn Tang/CGTN
The family speaks Uygur at home, but among the siblings, they speak a mixture of Uygur and Mandarin.
It's now the summer holidays and all four children are at home.
Family number two: Now a happy jade livestreamer
Ahmattohti Tohtiniyaz, 30, was very excited as he welcomed us to his lovely home with his wife and two children.
He livestreams every night from 8:30 p.m. until midnight, selling jade he procured from the local market to consumers and businesses all around China, online. He has been doing this for over a year.
"I can speak good Mandarin now and this has been so important. In the past, I would make losses because I didn't really understand the language and was at a disadvantage when it came to negotiating, and I would get mixed up with the prices we agreed on," he told us.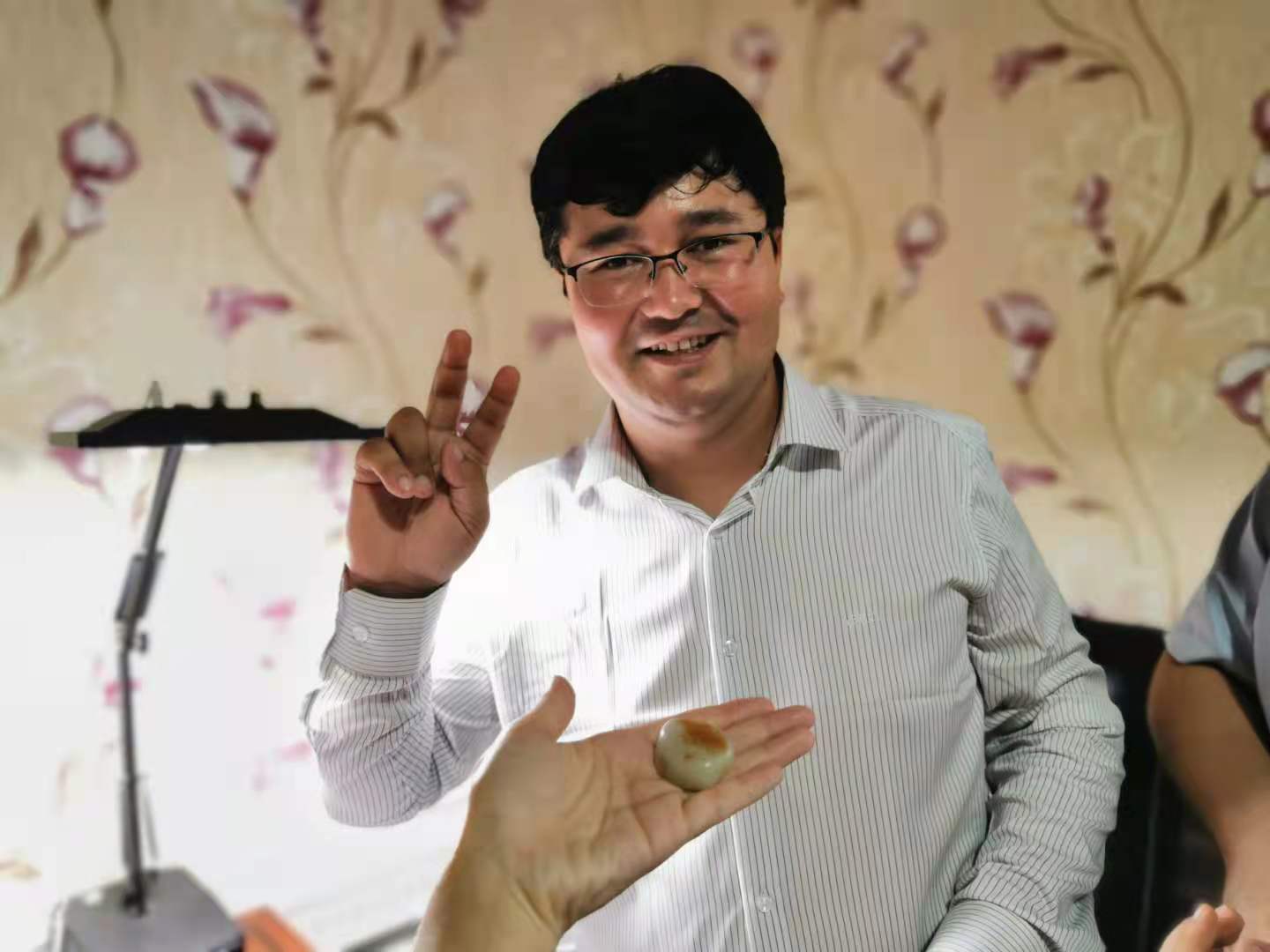 Ahmattohti Tohtiniyaz speaks good Mandarin, which has been helpful to his livestream business. Wei Lynn Tang/CGTN
Ahmattohti shared that he only fully learned Mandarin during his nine-month stint in a vocational education and training center, which lasted from September 2018 to May 2019.
"I used to hang out with some friends who sell jade. From them, I was influenced with extreme religious ideas. They said we can't sell jade to atheists, and that we can't interact with them. At that point, my business dropped, and I would quarrel with my wife when I went home every day," he told me later.
"Once my mother found out about my strange behavior, she mentioned that the government had opened a school and it's free of charge. She advised me to head there to study for a bit, to eliminate these 'religious extremism' thoughts of mine."
Ahmattohti said he then volunteered to go to the vocational education and training center.
"There, I studied law, Mandarin and skills. As you can see, I am now very happy. So it's a good thing I attended the center at that point, else I would not be as happy as I am now," he said.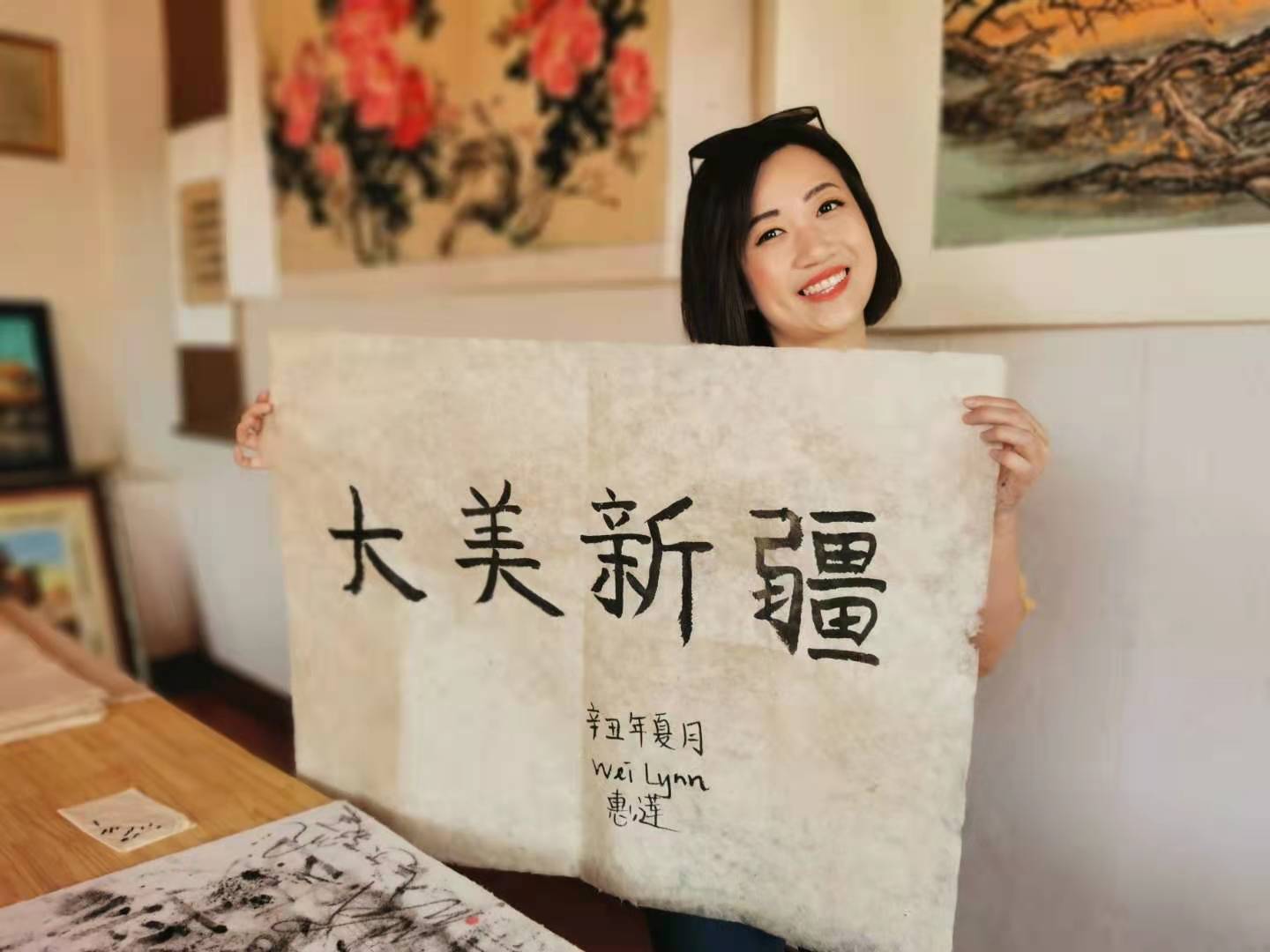 CGTN reporter Wei Lynn Tang tries her hands at calligraphy on mulberry paper made in Hotan. Li Siqi/CGTN
Ahmattohti said he now makes 20,000 yuan ($3,000) a month.
"I have 5,000-6,000 followers on Douyin (the Chinese version of TikTok)," Ahmattohti proudly said.
Dancing and singing on the Banlange grasslands
One of my favorite moments in this work trip has got to be: dancing and singing with a local family we met randomly on the Banlange grasslands in Qira County, Hotan.
I am usually very shy when it comes to dancing. But the moment just simply called for it, and I joined the mother to dance to local Uygur folk music playing in the background.
At an altitude of about 3,500 meters above sea level on grasslands facing the Kunlun Mountains, it was a moment so beautiful I almost had a tear.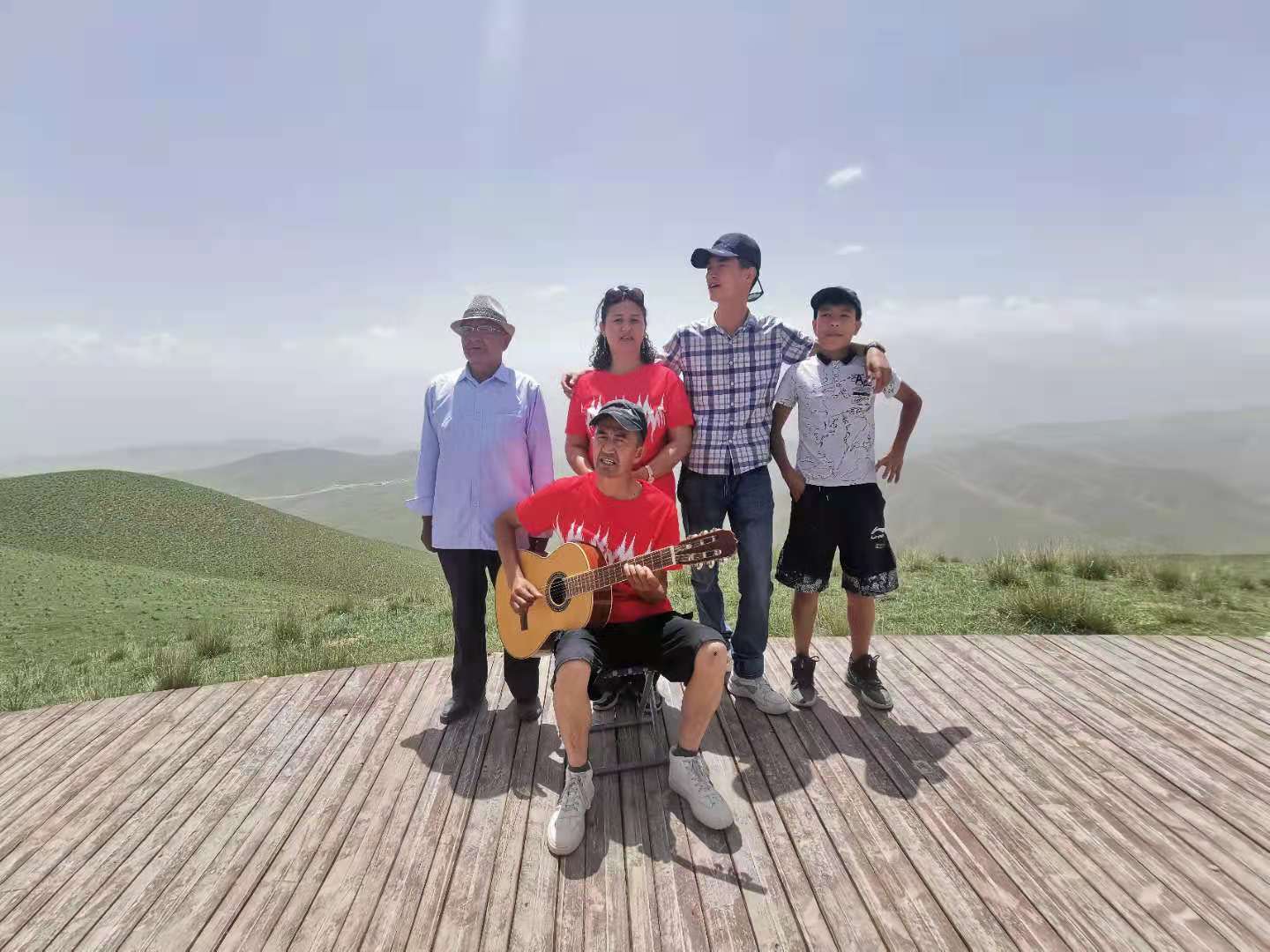 The lovely family we stumbled upon on the Banlange grasslands in Hotan, northwest China's Xinjiang Uygur Autonomous Region. Wei Lynn Tang/CGTN
And when I politely declined their offer to have some of their food, the mother took it upon her own to feed me grilled lamb.
But what also caught my eye was the patriarch of the family. When I told Tohetikuerpan Mamati I couldn't believe he was 81 years old, he showed me his identification card to prove his age – it was a cute moment. He looks 20 years younger than he really is!
Previously a road maintenance worker, his advice to me was to get moving every day to keep healthy.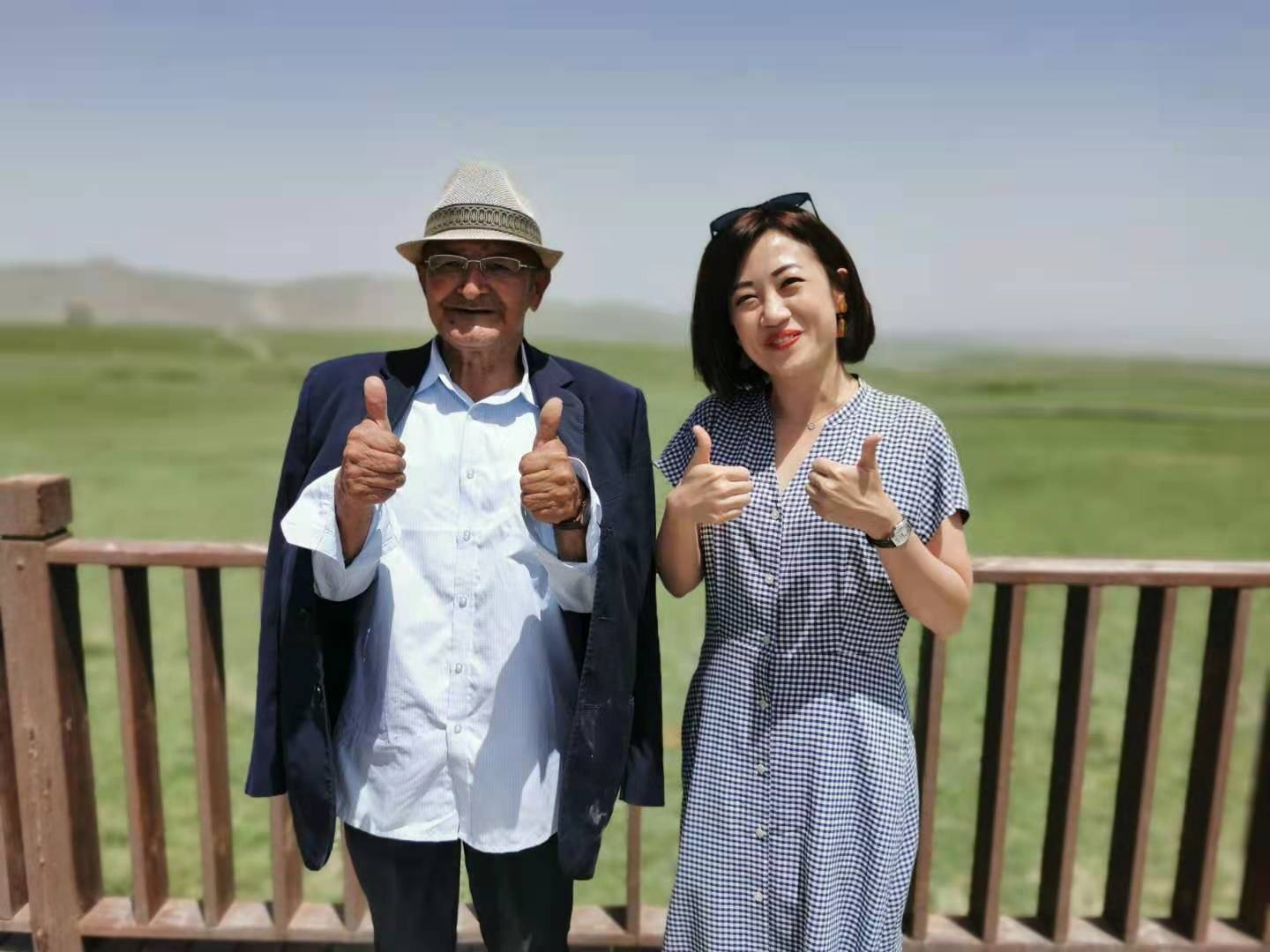 Eighty-one-year-old Tohetikuerpan Mamati doesn't look his age at all! /CGTN
As we left the grasslands, the mother gave me a hug.
Its people say a lot about a place, and I will not forget the graciousness extended by these Uygur families.
Family, love, kinship – this is my takeaway from speaking to them, on what binds them together.
(CGTN)