Graphics: How much has China spent on poverty alleviation?
BY APD NEWS
Apr 07,2021 at 13:33
China released a white paper on Tuesday to record the course of the Chinese people's great fight in eliminating extreme poverty. It introduces China's approach and actions in poverty alleviation.
As China eliminated extreme poverty by the end of 2020, it helped the United Nations to achieve the first target of its 2030 Agenda for Sustainable Development 10 years ahead of schedule.
Over the course of poverty alleviation, China has steadily increased funding to meet the challenge. The total investment from the central, provincial, city, and county governments reached a total of 1.6 trillion yuan, including 660 billion yuan from the central budget.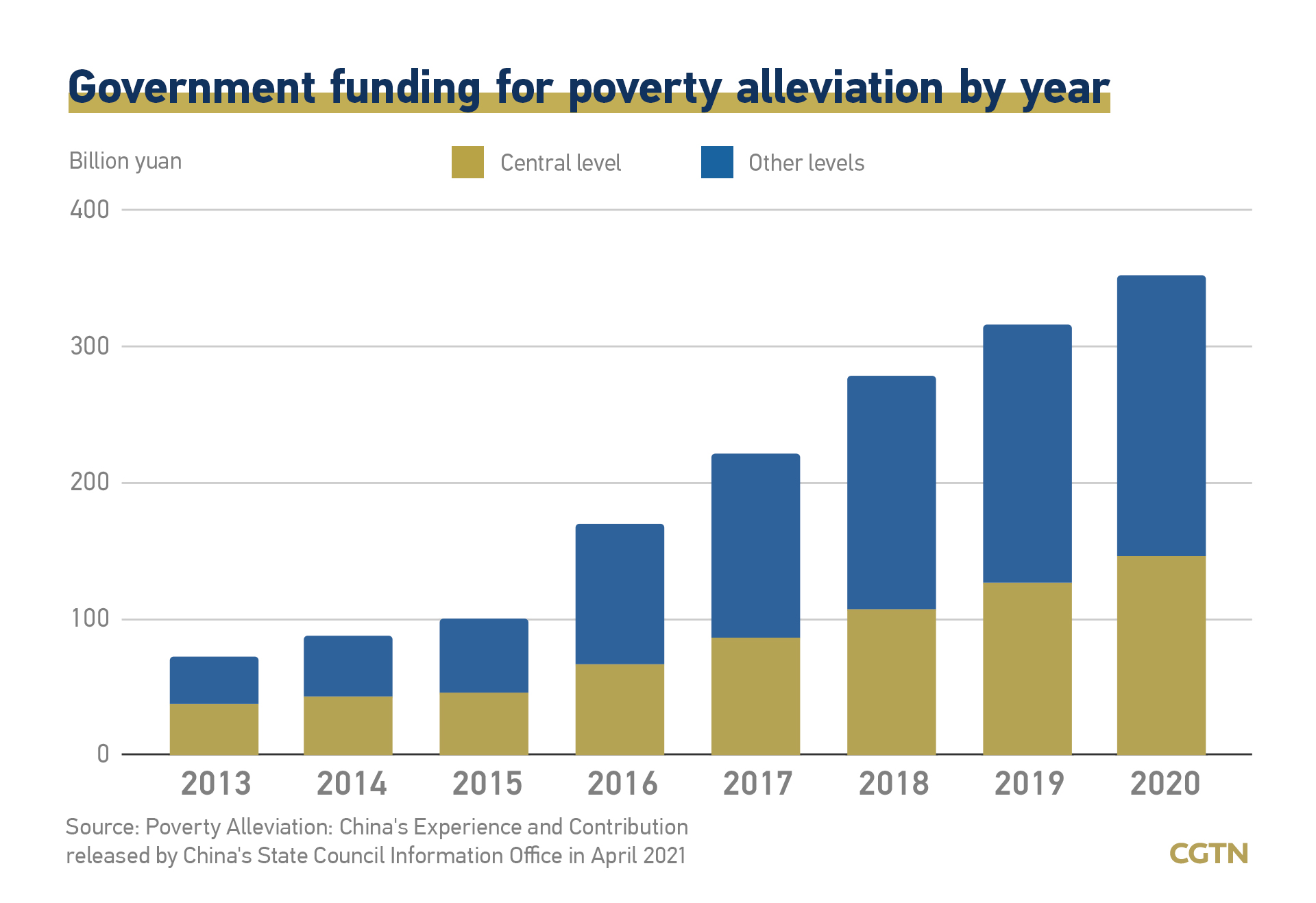 Besides financial support, poverty eradication also requires rigorous organization, leadership, and implementation. China has established a poverty eradication management network. The central government acted as a coordinator; provincial governments took overall responsibility; city and county governments oversaw the implementation.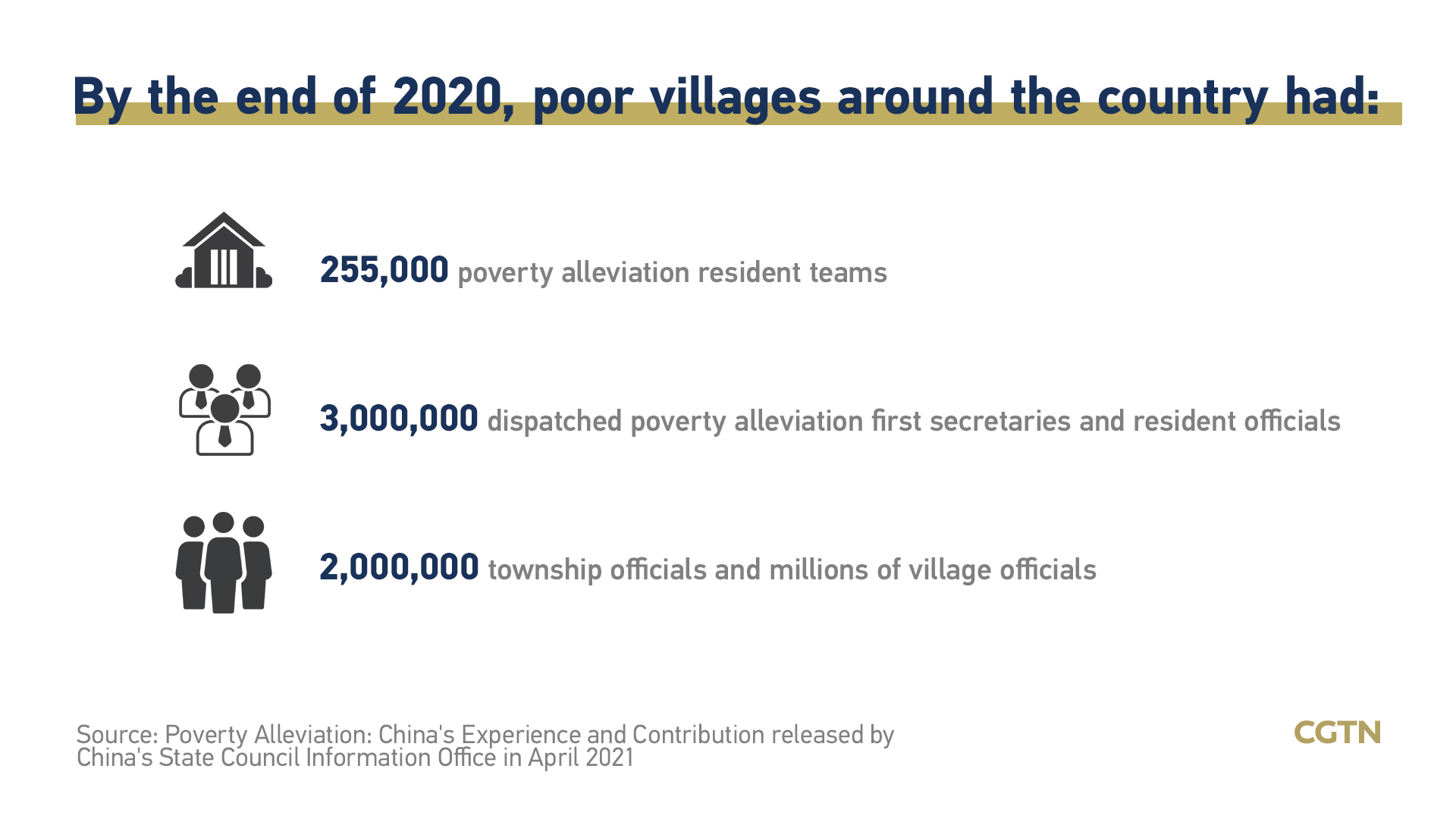 By the end of 2020, the country had dispatched 255,000 poverty alleviation resident teams and more than 3 million officials to poor villages. The officials served as first secretaries and resident officials fighting on the front line alongside nearly 2 million township officials and millions of village officials.
The first group of officials was dispatched in 2013. By 2015, all poor villages had resident teams, and every poor household a contact official in charge of poverty elimination.
To ensure a clean environment for the battle against poverty, the CPC Central Commission for Discipline Inspection and the National Supervisory Commission have conducted supervision and disciplinary inspection over all work related to poverty alleviation, and campaigns to address corruption and misconduct.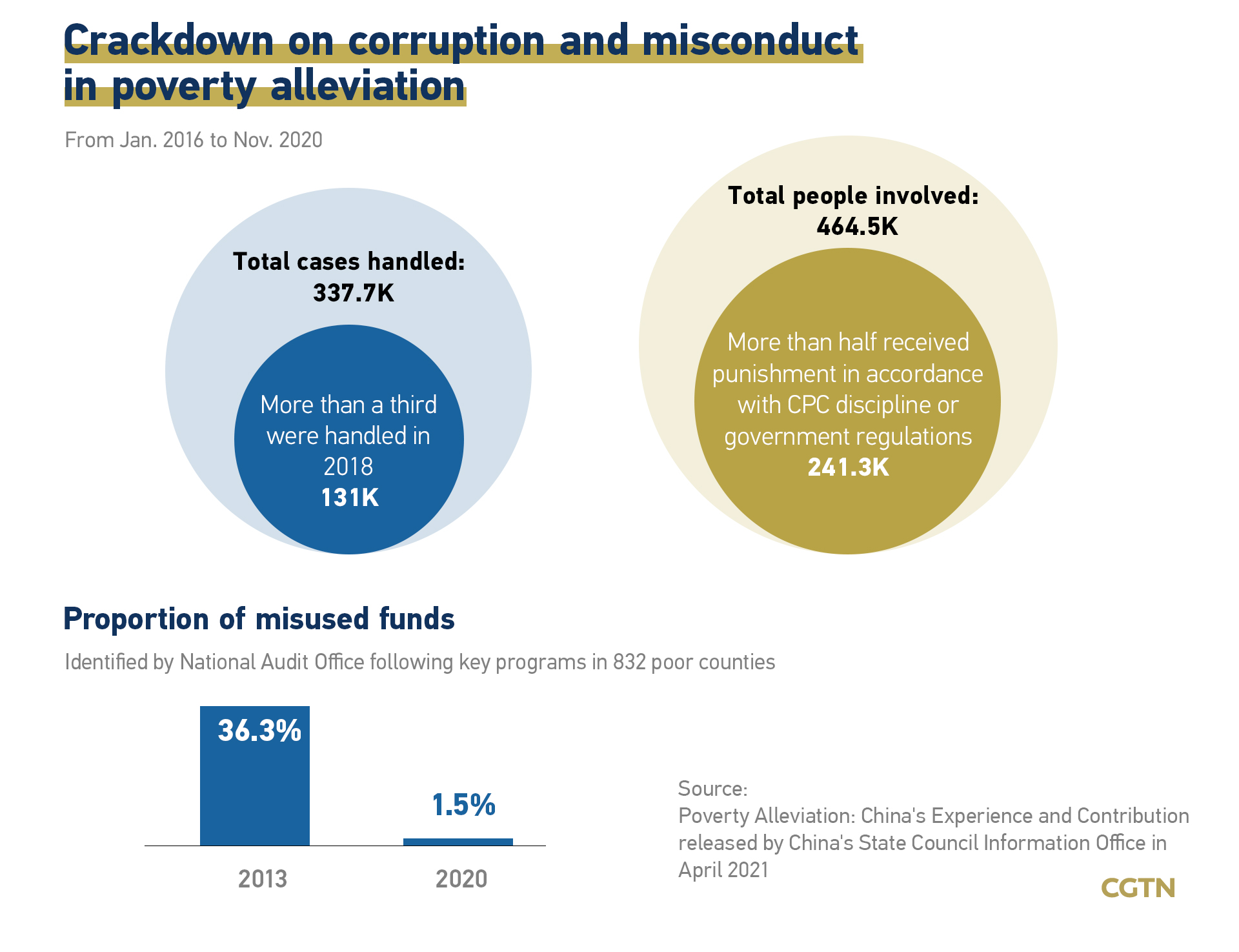 From January 2016 to November 2020, 337,700 cases of corruption and misconduct in poverty alleviation were handled, and 464,500 people were admonished or assigned to receive education. Those included 241,300 people who received punishment in accordance with Party discipline or government regulations.
To strengthen supervision over poverty elimination work, China has established a comprehensive system of scrutiny. The system incorporates supervision from inside the Party, other political parties, the government, and the public. The proportion of misused funds identified by audit dropped from 36.3 percent in 2013 to 1.5 percent in 2020, according to the National Audit Office.
(CGTN)