Trash sorting brings China closer to a more civilized world
BY APD NEWS
Jul 07,2019 at 11:04
"What kind of rubbish are you?" These days, the sentence is no longer an insult, but has become a greeting when Shanghai residents meet each other.
On July 1, the strictest waste sorting regulations in history took effect in Shanghai. Any individual or unit that fails to classify their garbage will face penalties, marking a new start in China's battle against trash pollution and pursuit of a more civilized world.
Why now?
As early as 2004, China surpassed the United States as the world's largest garbage producer. According to a report from the German-Sino Promotion Centre for Environment and Energy, China produces around 400 million tones of domestic waste a year, and the sum increases annualy by about eight percent.
Landfills have long been China's main way of handling urban waste, and excess waste poses serious problems for land, water and animals. How to deal with and recycle garbage has become an urgent task facing the Chinese people.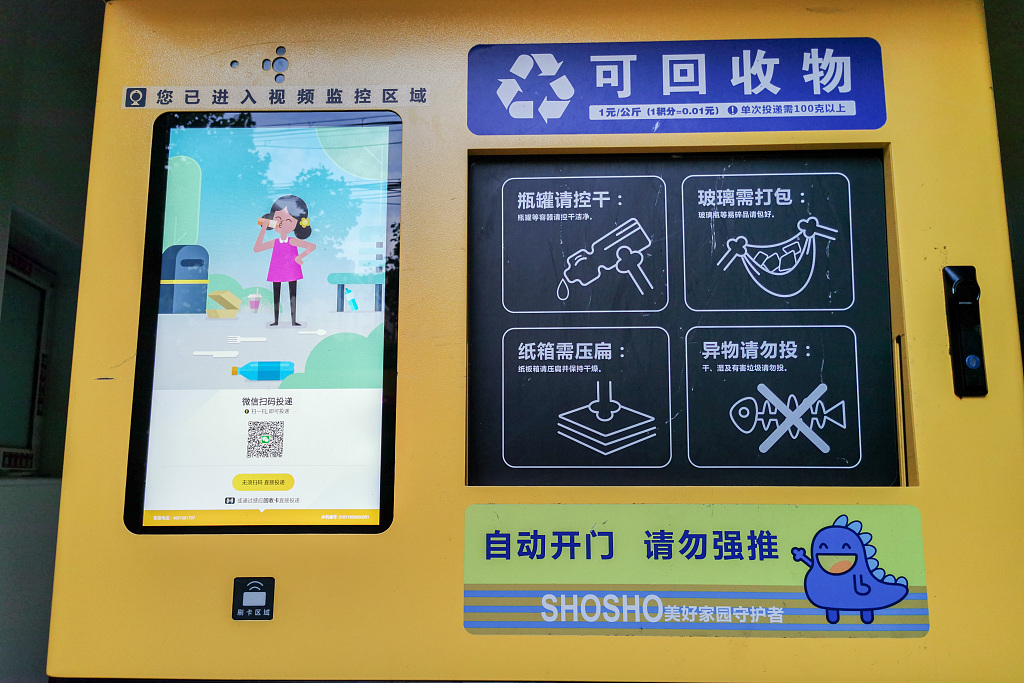 A smart sorting and recycling machine on the streets of Yangpu District in Shanghai, July 3, 2019. /VCG Photo
Actually, as far back as 2000, the Chinese government designated eight cities, including Beijing and Shanghai, to pilot municipal recycling programs. Some pilot cities were subsidized and encouraged during the period, but the implementation was not obvious.
In most of the world, citizens are largely responsible for sorting trash, rather than through government subsidies.
With the rapid development of China's economy, the per capita income and education level of residents steadily improved, driving the improvement of the residents' quality. At the same time, the people's yearning for a better life has become increasingly strong, which is a prerequisite for the promotion of the garbage classification system. In addition, the construction of garbage collection, transportation and disposal facilities has begun to take shape.
How do developed countries sort trash?
What to do with the mountains of rubbish is not just a problem for China. According to a Bloomberg report, as of 2018, humans were on track to generate waste at more than double the rate of population growth through 2050.
At present, it is generally believed that garbage classification in Japan and the United States is relatively mature, but its operation mode is significantly different.
In the United States, the garbage classification model is relatively simple. Generally, garbage is divided into two or three categories: "recyclable" and "non-recyclable."
Most traditional garbage sorting education lists only the kinds of items that can be recycled. At the same time, the United States has also adopted such systems as different fees for garbage, rewards and penalties for garbage classification, beverage bottle deposits, and extended producer responsibility to further promote the implementation of garbage classification.
However, the overall construction of the waste classification system in the United States still has deficiencies, and the proportion of waste recycling has not been further improved in recent years.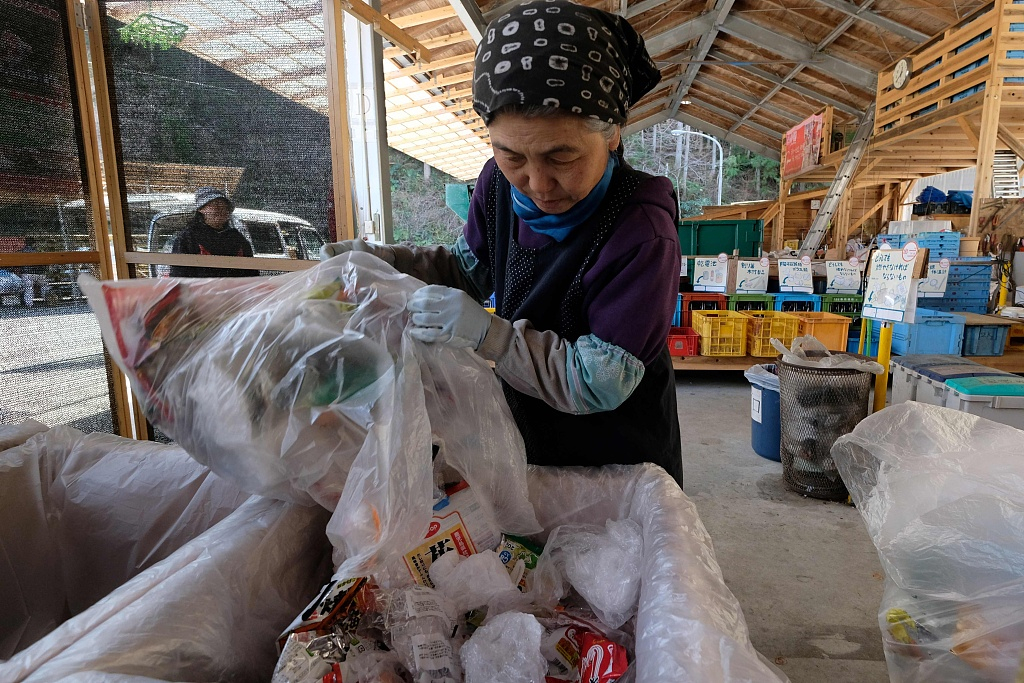 This picture taken on March 14, 2019 shows a worker sorting trash at a waste center in the town of Kamikatsu, Tokushima prefecture in Japan. /VCG Photo
Meanwhile, Japan has one of the world's most elaborate waste sorting schemes, with dozens of different types of waste to be sorted and recycled.
Different regions in Japan have different requirements for garbage classification. There are as many as 36 kinds of garbage classification in specific regions, and most regions have 4 to 10 kinds of garbage classification. Japan also has strict requirements on the timing of garbage collection.
For example, in Nagabitachi, Shizuoka prefecture, combustible trash can be thrown away twice a week. You can throw out non-combustible trash, plastic bottles, hazardous garbage or resource garbage twice a month.
Due to its good classification education, high national quality, relatively perfect garbage collection, storage, transportation and disposal infrastructure, and strict punishment system, Japan has become one of the countries with the highest efficiency in garbage classification and resource utilization worldwide.
Will Shanghai model be widely adopted?
According to the new regulations, domestic waste must be classified into four categories: dry waste, wet trash, recyclable waste and hazardous refuse.
At present, Shanghai garbage classification collection and transportation system has been basically formed. It has built 6,106 recyclable service centers, 121 transfer stations and 6 distribution centers. With the support of citizens, the amount of classified waste handled by the city has also increased significantly every day.
In addition to Shanghai, many cities are also preparing for the implementation of garbage classification. The Ministry of Housing and Urban-Rural Development has said that 46 key cities will continue to increase investment in facilities to classify and treat household waste in 2019 to meet the demand. By the end of 2020, waste classification and treatment systems will be basically in place in 46 key cities that have been tested first.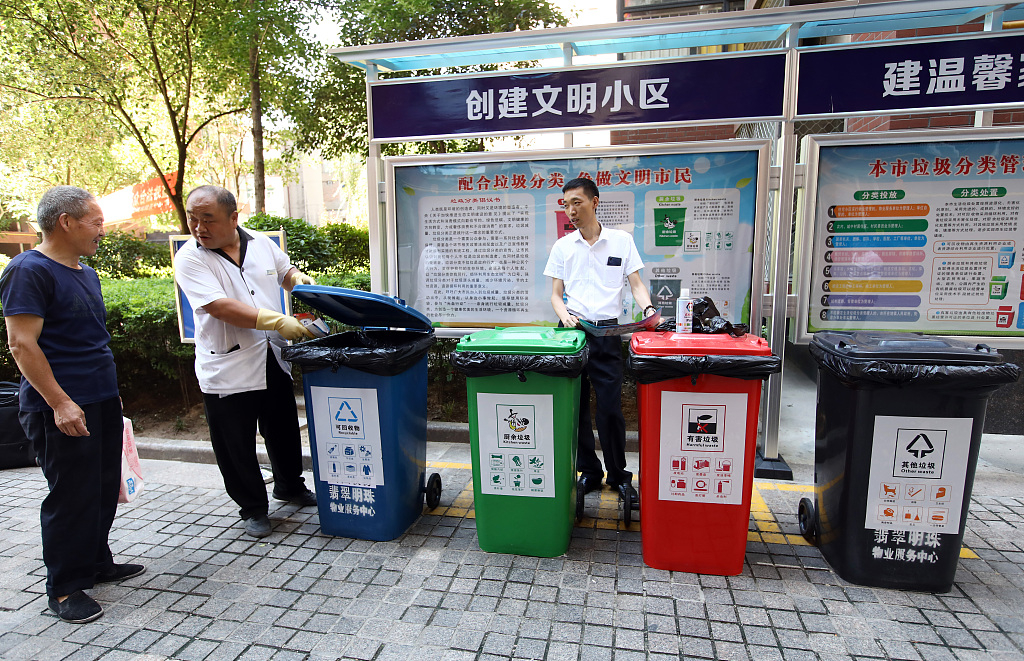 A residential property employee is explaining the garbage classification to residents in Xi'an, northwest China's Shaanxi Province, July 4, 2019. /VCG Photo
However, it is a long journey. Shanghai and other Chinese cities still have to build complex facilities to deal with even properly sorted waste, which will take years and huge investment.
Anyway, people are making changes to their habits while they are thinking and talking about trash sorting, which is a big step forward in itself.
If trash sorting can succeed in a big city with such a large population like Shanghai, it will have a huge impact on the world. Shanghai's new program could well be the model, as the world is going to clean up its trash heaps.
(CGTN)