Is President Biden pursuing Trump-era continuity?
BY APD NEWS
Mar 31,2021 at 12:54
Editor's note: Freddie Reidy is a freelance writer based in London. He studied history and history of art at the University of Kent, Canterbury, specializing in Russian history and international politics. The article reflects the author's opinions and not necessarily the views of CGTN.
Despite having lost the 2020 presidential election, Donald Trump's share of the vote surprised many. What many observers on the right and center-right agree on though, is that Trump's handling of COVID-19 and his erratic leadership resulted in obstacles that ultimately were too hard to overcome.
President Biden's team appears to have learned some of these vital election lessons. The Biden administration promised a rapid vaccine rollout with 100 million vaccines within the first 100 days, a target which has since doubled. The provision of clearer messaging and employing a less divisive tone has helped overcome inoculation and disease prevention being presented as partisan concerns.
On other issues though, the Biden administration has recognized the value of many Trump-era policies, either in their own right, or recognizing the political opportunity that reversing them at a time of their choosing presents.
However, the press conference on March 25 did highlight the political risks of a radical policy deviation. A surge in illegal Mexico border crossings has led to a crisis that has necessitated the vice president being assigned to lead the efforts to contain the situation.
Biden on the defensive stated that "there's no easy answer." Critics believe that the change in tone has caused the surge, something which former President Trump was quick to seize on. Speaking to Fox News on March 28, Trump declared, "a lot of people want me to go (to the border). The Border Patrol and the people of ICE want me there and have asked me to go. I feel I sort of owe it to them.I'd love not to be involved. Somebody else is supposed to be doing it."
However, on foreign policy, the signs of continuity are far clearer. Biden may have declared that "America is back. Diplomacy is back. Alliances are back,"but the policy direction appears steadfastly one of continuity. As Professor Aaron Friedberg observes,"At least initially, they're (the Biden administration) sticking with what Trump left them."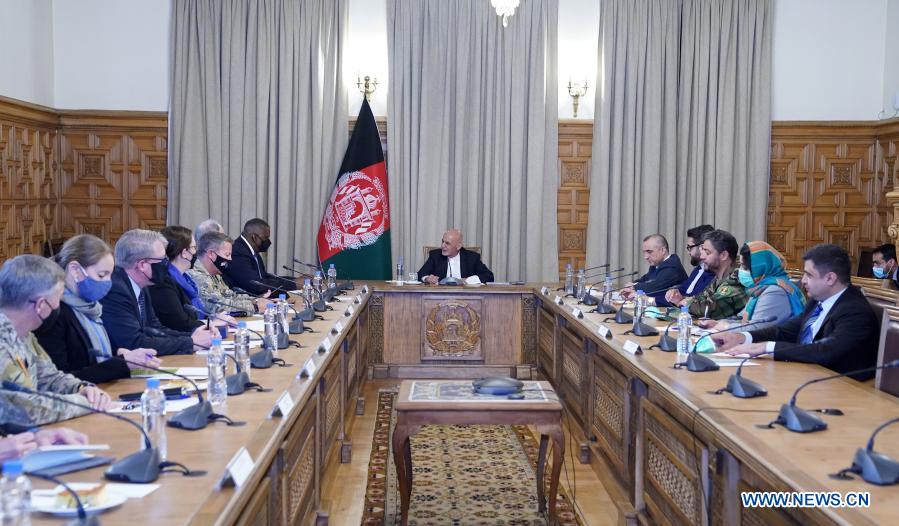 Afghan President Mohammad Ashraf Ghani (C) meets with the U.S. Secretary of Defense Lloyd Austin (7th L) in Kabul, Afghanistan, March 21, 2021. /Xinhua
Following Trump's lead, Biden is committed to troop withdrawals from Afghanistan. When asked whether he expected U.S. troops to still be in Afghanistan in a year's time, the president responded, "I can't picture that being the case."Despite the likelihood of missing Trump's May 1 deadline and his own 2014 deadline - announced as vice president in 2012, such a policy is a break with that of Obama's second term.
Remaining in the Middle East, Secretary of State Antony Blinken has praised Trump's "Abraham Accords"– the flagship policy of Israeli normalization. The White House also continued a policy of not placing sanctions on Crown Prince Mohammedbin Salmanin the wake of the investigation into the death of Jamal Khashoggi, opting for dialogue over censure.
On Iran too, where Biden castigated Trump's withdrawal from the Joint Comprehensive Plan of Action(JCPOA), the president now appears committed to retaining sanctions until Iran returns to compliance.
Nowhere is the hand of the "maximum pressure"maxim or "America First"more visible than the U.S.'sChina policythough. Biden has targeted Chinese tech firms earlier this year while overseeing the continued rise in significance of the so-called Quad countries. A tense dialoguein Alaska also underscored the diplomatic challenge facing both nations.
While China hawks are content with continuity, the stance surprised many who had been hoping for something akin to a reset. "It seems to have been important to the Biden team to signal the ways in which there is continuity with the Trump administration, which is…obviously a bit surprising," noted Professor Sheena Greitensof University of Texas at Austin.
Former Bush advisor Paul Haenle expressed his "hope the approach moves beyond simply pushing back and that we don't get a China policy that is being dictated by Trump from his political grave in . . . that they're so worried the Republicans will label them soft on China."
Climate change could offer an opportunity for the kind collaboration which may foster rapprochement between the world's leading economies. Indeed, President Biden has invited President Xi Jinping to the first U.S.-convened climate talks in an encouraging step.
Speaking to the Financial Times, former Chinese diplomat Victor Gao warned that "it will take time to detoxify the relationship." But if Biden really is offering Trump continuity, then we can expect that everything is on the table. As Zhu Feng of Nanjing University also told the FT, "having a quarrel does not mean the negotiations will be a failure."
(CGTN)