Russia and China stand together
BY APD NEWS
Mar 26,2021 at 13:16
Editor's note: Pavel Felgenhauer is a Russian defense Analyst based in Moscow. The article reflects the author's opinions and not necessarily the views of CGTN.
Both Russia and China had a vested interest in making Russia's Foreign Minister Sergey Lavrov visit to Guilin to meet his Chinese counterpart Wang Yi a resounding public success. With the COVID-19 pandemic, such in-person visits are a rarity and are not taken lightly, but the Guilin ministerial had much additional weight, coming days after Russian and Chinese relations with the West took a dramatic nosedive.
A Sino-U.S. top officials'meeting in Alaska – the first after U.S. President Joe Biden took office in Washington – turned into a heated public confrontation, while Russia recalled its ambassador in Washington, Anatoly Antonov, back to Moscow "for consultations" – a diplomatic afront that never happened during the old bad days of the Cold War.
Russian officialdom and the media (but not President Vladimir Putin himself) continue to denounce Biden for muttering in agreement during an interview about Putin being a "killer," which translated into Russian as "ubiytsa," making the insult much worse (meaning "murderer").
On top of that the cumbersome EU bureaucracy came up with sanctions based on alleged human rights violations both against Beijing and Moscow. Both nations denounced these sanctions as an unwarranted intrusion into their internal affairs. Though the EU sanctions are more symbolic than actually punitive, China reacted immediately with "mirror" sanctions of its own.
The China-Russia Treaty of Good-Neighborliness and Friendly Cooperation was signed in July 2001, and on a positive note it has been confirmedthatthe treaty will be prolonged automatically for another fiveyears by both sides.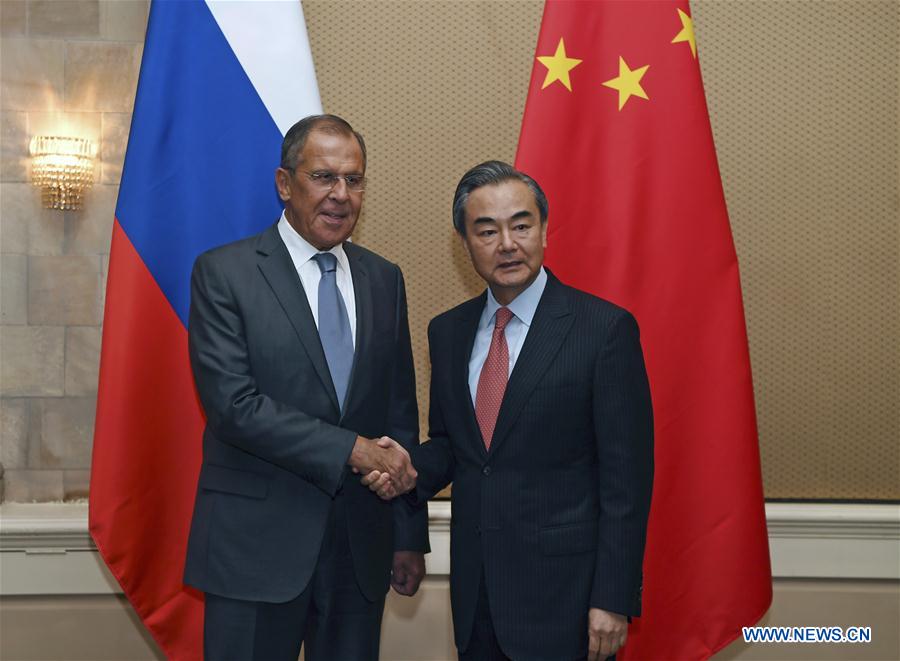 Chinese State Councilor and Foreign Minister Wang Yi (R) and Russian Foreign Minister Sergei Lavrov. /Xinhua
At a pressconferencein Guilin, with Wang Yi, Lavrov declared China to be a "good neighbor," while the EU also being a neighbor, has virtually destroyed all the clockwork of interaction with Moscow. Of course, Moscow is ready and willing to work with individual European nations bypassing the EU. Lavrov confirmed what many in Moscow have always believed: The EU bureaucracy must beavoided as much as possible. At the same time,cooperation with China was praised as exemplary and should be moving forward swiftly.
The political will is clearly at the highest level in Moscow and Beijing as they aim to increase cooperation and partnership in different fields. At the political level, things seem to be working out fine, but on the practical level of trade, there can still be problems sometimes. Lavrov and Wang Yi stood together in Guilin and exchanged many positive words, but apparently the most burning issue for Moscow, the fish imports, was not effectively addressed. An earlier outbreak of COVID-19 infection in the port city of Dalian in December 2020 resulted in its closure, and by January 2021 all imports of Russian fish to China had stopped.
Of course, when top political leaders are dealing with problems of war and peace, sanctions, and national sovereignty, what to do with a hundred thousand tons of Alaska pollock and how to maintain a solid COVID-19 lockdown while not hurting the fishing industry in Russia may seem a petty problem, but, in fact, it's not.
China and Russiahave set ambitious goals of extending their partnerships to a totally new level, seeking to closely work together, not only promoting traditional trade in natural resources, food, and consumer electronics, but going jointly into space and to the moon, effectively cooperating in aeronautics and other high-tech fields with possible future joint military programs.
To make this happen, an effective mechanism of fine-tuning that could work well on its own must be established, so it doesn't rely on top political leaderships to solve trivial problems. Such a mechanism will bring the two countries even closer, and it surely helps ensure the declarations of solidarity and cooperation between Moscow and Beijing.
(CGTN)