Why is Blinken upping the ante in Asia-Pacific?
BY APD NEWS
Mar 30,2021 at 13:15
Editor's note: Bobby Naderi is a London-based journalist, guest contributor in print, radio and television, and documentary filmmaker. The article reflects the author's opinions, and not necessarily the views of CGTN.
U.S. Secretary of State Antony Blinken continues to actively talk up tensions with China as the bogeyman de jour, and he claims there are "increasingly adversarial aspects" of the U.S. relationship with China that need to be addressed. To further arouse suspicions, Blinken routinely and wildly insists that the South China Sea littorals states are weak and subject to threats from China.
No doubt this is part of a new Great Game by Pentagon's "Pacific Pivot" planners to manufacture a new threat, justify deep military incursions, and challenge maritime claims for a profit, and more profit in the Chinese peripheries. In much the same way, the Biden administration's foreign policy establishment needles China on trade and tariff disputes in order to avoid making a decision on a reset as long as possible, and to avoid any political fallout with their hypothetical Asia-Pacific allies.
Backed by a diet of fear, there is profit in trying this "group-beating" approach of "sovereignty patrols." The U.S. already has enormous resources invested in the region, including naval bases, aircraft carrier groups, and "defense" treaties. It makes geopolitical sense to talk up tensions, secure political cooperation, and boost lucrative arms trade through major pacts. Think of all this as a regional matrix that rests on imperial interventions that have formed around the Pentagon and the military-industrial complex for decades.
Imperialism and greed
Blinken talks of "competitive areas as well as adversarial ones," and he is not stopping there. He is not taking questions either. This shouldn't leave us totally in the dark about his intentions in the strategic waterway through which at least $3.4 trillion in trade passes every year.
His rhetoric of upping the ante and going all-in on military incursions is part of the usual pivot for imperialism and greed. The Pentagon wouldn't explain, but the U.S. wants to be a South China Sea power.
It makes no economic sense to increase deployments of naval and air assets, stage joint naval exercises, sell weapons worth hundreds of billions of dollars, fuel a region-wide arms race, prolong the trade war, and then pack up and leave the world's most populous and economically dynamic region. This is not what the "Pacific Pivot" is all about. It's also about "stay and entertain."
The Asia-Pacific region and its strategic resources are so important that even NATO has announced plans to return, with an agreement to start a U.S.-EU dialogue on the issue, and a pledge to close ranks with "like-minded democracies."
What's truly exceptional is that European Commission Vice-President Josep Borrell, the EU's top official for foreign affairs, has claimed that this is about "reciprocity, economic issues, resilience, human rights, security multilateralism and areas for constructive engagement with China, such as climate change."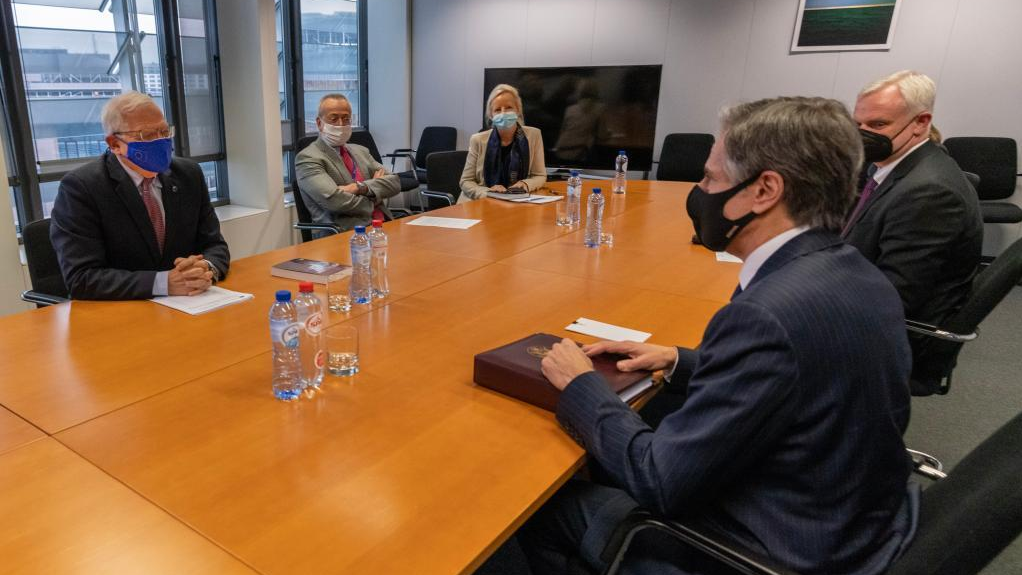 Josep Borrell (1st L) meets with Antony Blinken (2nd R) in Brussels, Belgium, March 24, 2021. /Xinhua
Serious oversight, but Blinken insists this is "to confront the challenges that China presents to the rules-based order that we both subscribe to." In much the same way, NATO Secretary General Jens Stoltenberg has said that he has plans "to build partnerships with regional countries as a bulwark against China."
By now, it should be clear that there's a pattern here for those who care to notice. Stoltenberg's escalatory rhetoric is also for a profit, and more profit in the Chinese peripheries. Expect NATO to remain a key part of the U.S. pivot in order to also force countries into its sphere of influence and global arms market.
Self-appropriated region
The U.S. and NATO might be assessing links between Trans-Atlantic, Euro-Atlantic, and Asia-Pacific security as their self-appropriated region, but the economic, military and diplomatic resources they could devote to their pointless incursions are limited.
If they are to play an increasing role in Asia-Pacific security, they must think in a more multilateral way, without interfering in regional affairs and certainly without arousing Chinese suspicions.
With this in mind, no matter how hard the professional interventionists deepen cooperation through regular presence operations and intelligence sharing, many countries don't really see the need for foreign interference. Further still, the Asia-Pacific strategies of the U.S. and NATO have developed largely independently of each other over the years. They are in no way seen as regional security partners, rather as the realm of the extreme, of the abnormal, and not in a welcoming embrace.
Some regional countries might have their own reservations, but this assertiveness toward Beijing focuses largely on economic issues such as investment, technology, trade, infrastructure, and climate. They see that the published guidelines and strategies by the Pentagon regime read as for-profit rather than regional security concerns. They do not believe that the Pentagon reflects their interests. If Washington wants a simple metric, better would be a foreign policy directed at preserving dialogue with Beijing, not threat inflation.
It's a lie that the strategic environment is degrading because of China. It's also a lie that there is a growing need for a shared and united front. The U.S. can ensure a more persistent military presence so as not to too clearly reveal the self-serving nature of its pivot, but it still has a harder time seizing the story line.
These are challenging times, certainly not a time for advocates of interference and their foreign policy professionals and Pentagon accountants to force regional countries become allied with and subordinate to their wishful military alliances.
It's a superb suggestion for the enthusiastic interventionists to listen to the critics and international law, and to leave the region's problems to its own peoples. They could best seek security by simply exiting any geopolitical struggle with China, including the cheap grace of port visits and exercises.
(CGTN)