Who will make the first move in new era of U.S.-Iran Relations?
BY APD NEWS
Feb 22,2021 at 12:52
Editor's note: Freddie Reidy is a freelance writer based in London. He studied history and history of art at the University of Kent, Canterbury, specializing in Russian history and international politics. The article reflects the author's opinions, and not necessarily the views of CGTN.
President Joe Biden's new administration was widely tipped to usher in a new era of U.S.-Iranian relations. However, a sea-change in policy direction akin to the re-joining the Paris Agreement and the World Health Organization has not been witnessed in the case of the Iran nuclear deal, officially known as the Joint Comprehensive Plan of Action (JCPOA). Tensions again seem to be rising. What is behind this heightened tension and could it force a deal?
Much of the present deadlock is marred in procedural issues. Iran has been scaling down its compliance with the JCPOA since 2019, a year after President Donald Trump withdrew from the agreement – a point made by Saeed Khatibzadeh, a spokesman for Iran's Foreign Ministry, "Remember, Trump left the room." As such, Tehran has argued that it was the U.S. that broke with its commitments to the agreement first, and as such, the U.S. must lift sanctions prior to Iranian compliance with the JCPOA.
As the deadline of February 23 approaches, European signatories from France, Germany and the United Kingdom released a statement calling for Iran's return to compliance. This was followed by a tweet from senior EU diplomat Enrique Mora who declared that the EU was ready to invite all parties to talks, alluding to a "critical moment" if the deal is to be saved.
In a modest gesture, but a gesture greater than one seen since the Obama era, the White House signaled its willingness to enter EU-brokered talks while simultaneously lifting tough travel measures on Iranian UN diplomats. Biden also ended Trump's former pledge to restore full UN sanctions on Iran, a system likely to be the fallback if the JCPOA were to fail.
In a sign of the political difficulty in resolving the dispute, Iran's Supreme Leader Ali Khamenei remained resolute: "Words and promises are no good. This time (we want) only action from the other side." Khamenei went on to say that if the U.S. did lift sanctions Iran would "immediately" return to compliance.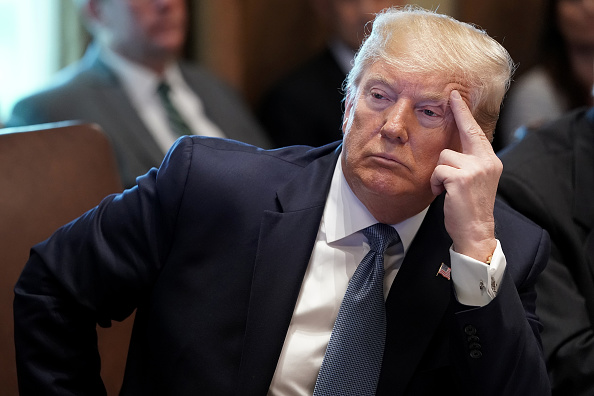 Former U.S. President Donald Trump. /Getty
Trump was highly critical of the JCPOA as it did not address American concerns over ballistic missile development or other regional concerns. While on the campaign trail, his successor was vocal in his support of the deal, but it now appears that he has some sympathy for Trump's wider concerns.
The JCPOA, though, is an international treaty which also counts Russia and China as co-signatories and there will be pressure within the group to agree to a resolution on the joint aims or face undesired consequences. Meanwhile, International Atomic Energy Agency Director-general Rafael Grossi arrived in Tehran on February 20 to seek independent guarantees for his agency's access.
While the cliff edge of February 23 might lead to a collapse of the deal in its entirety, it could also focus minds as a U.S. State Department official suggested: "We know that if you don't take that step (talks), the situation is just going to go from bad to worse."
Despite a firm stance from Iran, potentially due to internal political considerations in the buildup to an election, the EU remains upbeat on the prospect of talks. The Guardian quoted an EU official as saying, "I don't think Iran will say no to any practical attempt for an informal meeting, with all the countries around the table, that would be a basis for putting the JCPOA back on track."
Meanwhile, an Iranian government spokesman told Reuters that Iran has "never sought nuclear weapons" and that it is not part of the country's defense doctrine.
Despite an atmosphere of heightened political pressure, there are grounds for optimism in a resolution. We have a willing intermediary in the form of the EU, the U.S. has agreed to talks and Iran has agreed to compliance if sanctions are lifted.
Striking a neutral posture, Russia's UN Ambassador Mikhail Ulyanov urged a pragmatist's path: "The sooner you (U.S.) and your Iranian colleagues as well as other JCPOA participants start pragmatic discussions on the way out of the current unfortunate situation, the better."
Ulyanov continued, perhaps speaking for non-U.S. or Iranian signatories: "Childish disputes about who must make the first step are absolutely counterproductive. The process needs to be carefully synchronized."
A phased re-adoption of the JCPOA may therefore need to be employed, avoiding the cliff edge of February 23 while restoring trust and cooperation at a measured pace. Beyond the rhetoric we can hopefully take courage in the presence of the components of compromise that will lead to greater regional stability and nuclear security.
(CGTN)