Unpacking the economics of Biden's COVID relief plan
BY APD NEWS
Feb 10,2021 at 14:46
Editor's note:Hannan Hussain is a foreign affairs commentator and author. He is a Fulbright recipient at the University of Maryland, the U.S., and a former assistant researcher at the Islamabad Policy Research Institute. The article reflects the author's opinions and not necessarily the views of CGTN.
U.S. President Joe Biden's $1.9 trillion dollar COVID relief plan is too often dismissed as a liberal spending spree. It isn't. When considering the full expanse of policy priorities tied into the plan, a colossal workforce expansion of America's public health infrastructure comes to mind, a child-tax credit benefit initiative for millions of American families, and long overdue protection under unemployment insurance. By simply aggregating the plan's varied relief timelines with the multitude of institutionalized assistance on offer, one arrives at a cautiously optimistic conclusion: that the benefits of greenlighting the $1.9 trillion relief package could ultimately outweigh the costs of conservative fiscal inaction. At least by key economic benchmarks.
Consider the proposed $3,000-per-child benefit legislation, and its transformation of American welfare policy. A raging COVID-19 pandemic has shot four decades of America's child poverty gains on the back of dwindling federal aid alone. About 2.3 million children now constitute an aggregate sum of nearly eight million U.S. citizens, all of whom are back in the clutches of poverty, and at a pace of deterioration that easily tops six decades. It is also worth noting that a 0.4-percentage point change in employment for youngsters has raised hopes of a more lucrative job market in coming periods. But dense data from the U.S. Bureau of Labor Statistics this month confirms that the key metric for prospective gains – jobless rates – remains virtually unchanged for the same age brackets.
From a macroeconomic viewpoint, these disparities are likely to weigh heavily on swathes of young populations now exiting thresholds for employment eligibility, potentially offsetting their market gains in professional and business services. Evidencing this forecast is America's unrestricted surge in child poverty when compared to major developed countries, and the barriers it introduces for women to enter the U.S. labor force at a critical juncture.
The Biden relief plan succeeds in calculating middle-ground, factoring both low-income and moderate-income families as part of its final child poverty "net effect" for all. As a result of such macro uniformity, what legislators have is a working template to make child allowances a more permanent feature in the coming periods, relieving the federal government of massive fiscal compromises down the line, as fretted by Republicans.
Understand that an expansive public health workforce will have a crucial say in whether the United States can rise up to the COVID-19 challenge in time, potentially holding the cards for post-July economic recovery conditions. As witnessed already, massive stagnation in federal-to-state grants has made qualified personnel hiring a major obstacle at the local government level, and citizens struggling to navigate a deficient health-care system find their employment preferences shifting towards temporary public jobs with limited added value.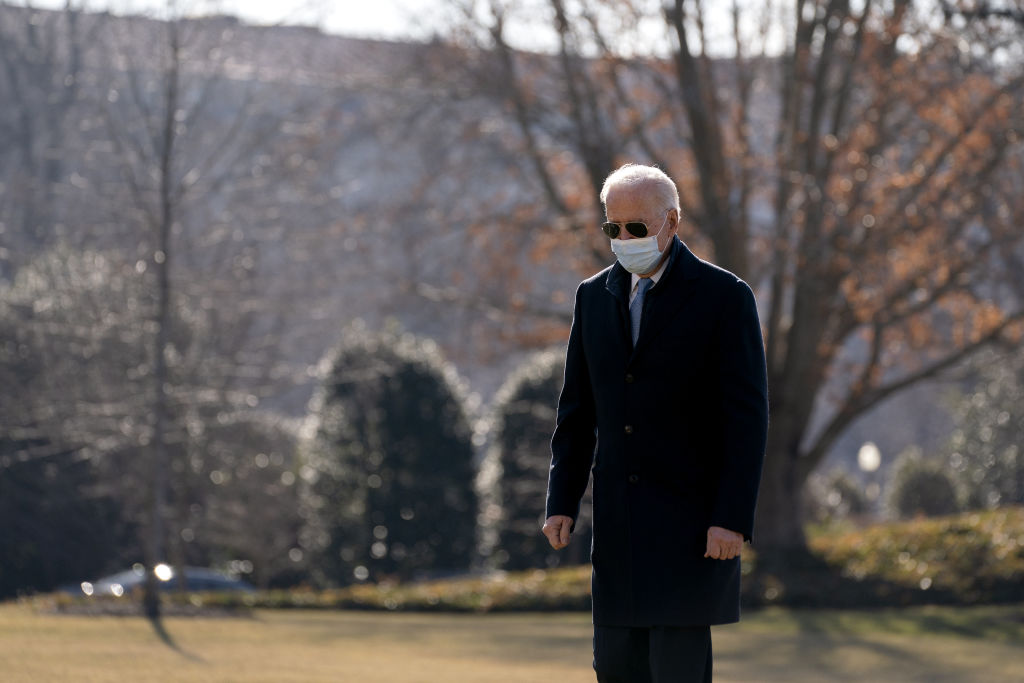 U.S. President Joe Biden wears a protective mask while walking on the South Lawn of the White House after arriving on Marine One in Washington, D.C., U.S., February 8, 2021. /Getty
By committing around $7 billion to a six-digit public health workforce expansion, the Biden plan is a step towards collectively steering the mechanics of contact tracing, vaccine outreach, and government grant utilization, arguably for the first time in U.S. history. More importantly, this means that successful coordination on all three fronts could end up influencing citizen attitudes towards the labor force as a whole, given that a collapse in competent health care access is what coincided with a decline in labor force re-entrants in the first place.
Third comes the Biden plan's proposed increase in unemployment insurance, a hotly debated issue which the Democrats are yet to argue on hard economic grounds. Here is one.
The issuance of $400 insurance supplements targets existing gaps between state and federal laws, including those that specifically limit protection for non-income earners in the absence of this sum. The insurance opportunity is not to breed complacency among the unemployed, but instead, to create new incentives that help advance economic contributions of non-income earners alongside other worker groups – keeping neither segment at a zero-sum loss.
At present, both indicators – the employment-population ratio and labor force participation rates – are several percentage points lower than their pre-pandemic February levels, and some 7 million individuals who are desirous of a job are not engaged in the labor force at all. Taken together, advancing employment for all major worker groups demands a uniformed standard for unemployment insurance, as proposed under the Biden relief plan. This way, employment gains that were previously offset by select industries, do not compel select workers to be targeted as collateral.
In light of these macroeconomic implications, it can be strongly argued that the massive Biden COVID relief plan is more sector-responsive and growth-specific than what meets the eye. The Democrats have already prepared the ground to push the plan without sizeable Republican support. But in demonstrating its financial weight to the same audience, a less sentimental and more pragmatist approach to basic economics will suffice.
(CGTN)